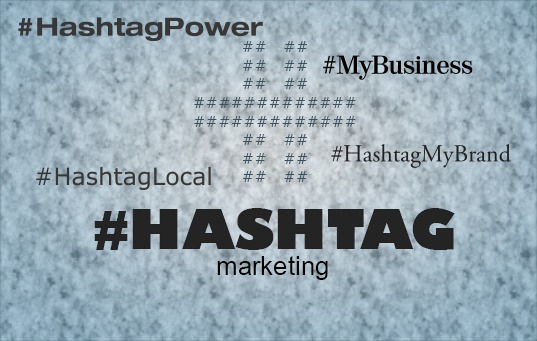 #DefinitionHashtag

We've all seen hashtags on social media … hashtags are created by placing the hash character # in front of a word or unspaced phrase.

Hashtags are basically just a label used on social media posts that give people an easy way to quickly find information and content about one specific subject.

If you searched for #OrganicGardening, results would be all posts containing the same #OrganicGardening hashtag. Most likely, everyone with that hashtag is commenting about or sharing content about organic gardening or organic gardens.



Where are Hashtags Used?

Hashtags are typically used on social media sites such as Twitter, Instagram, YouTube, Google+, Tumblr, Pinterest, and Facebook. Note: Facebook hashtags are accepted but not technically supported for filtering searches or results.


Hashtag Protocol

Length – To make a word a hashtag, just add # before the word. Technically, hashtags can be almost any length, but it's recommended to keep your keyword 6 characters or under. On Twitter, a post is limited to 140 characters, so the best hashtags are a single word or a few letters. Use only letters and numbers in your keyword. Hyphens and dashes are a no-no.

Don't Use Spaces – If you're using two words, do not use a space. Hashtags don't support spaces.

Example: (yes) #candlesale (no) #candle sale


Special Characters Not Allowed – Hashtags only work with the # (number symbol). Special character such as: ? : > * & ) ! will not technically work. Twitter recognizes the pound sign and then converts the hashtag into a clickable link.


Don't Put Numbers First – Always start your keyword with letters, never numbers (digits).

Example: (no) #365 (no) #452new (yes) #fivek2015 (yes) #movies2016



Hashtag Marketing Strategy

Hashtags encourage social media users to move beyond one post, and gives them motivation to explore content.

Businesses can use hashtags to create brand awareness, and to identify with and filter information for potential or current customers.

Hashtags speed up the search process. Consistently using the same hashtag in your social media posts makes it easier for people to find information specific to your business, products and services.

Example: Always include #YourBusinessName in your posts. If a customer is looking for the newest content about your business, they will come to enter the hashtag #YourBusinessName and will immediately be able to view content specific to your company.

When you make posts about an event or specific content, tie it back with a second hashtag.

Example: #YourBusinessName #OrganicSeeds or #OrganicSeedSale


When a social media user sees a post that interests them, they'll spend time reading through the content brought up by the hashtag. Hashtags make people click into content they may not normally read.

The more often you consistently use a unique hashtag, you're opening up greater opportunity to grow your audience.

Don't pile on the hashtags … using too many will clutter your post and translate as unprofessional. One to three hashtags are sufficient.

Be sure your posts are relatively short and to the point. Create hashtags to fit your business by using common industry related terms.



Power of the Hashtag

With hashtags you can attract people with similar interests to a single conversation. You can provide information and to the same people. You can find relevant users who are interested in your product/service.

Hashtags can create buzz and be used to increase interest and start hype around a new product or existing business. You can use for an online contest, a new product, an upcoming event, a newsworthy announcement, a milestone, etc. Promote your business brand on the local level with hashtags, especially when you want to get user involvement at your community level. For best results, continue to share and manage the conversation before – during and after the event.



Hashtag Online Tools

Hashtagify – Shows you the different links between certain hashtags and allows you to see how closely linked and how popular they are. You can also see a selection of posts using a certain hashtag and the top influencers. Free option you may use for trend tracking, content inspiration, keyword research and social media update optimization. Additional research options available with the Paid subscription.


Tagboard - Search hashtag use across several social platforms at once. Easily aggregate the results and see how people are using a specific hashtag across all social media platform results, or select specific social platform results only. Graphs display Trend, how many posts per hour, what percentage of posts were positive, neutral as well as negative. Free and paid options available.


Trendsmap – Enter a location, word or current topic to see what's trending locally, regionally and all over the globe. Free and paid options available.


FollowTheHashtag – Keeps you up to date with what's trending and what people are following. Find twitter influencers related to a topic, analyze your competitors, discover the top hour and day for an specific keyword or content, and more. Use for free with limits.


Tweetchup - Analyze insights on tweets containing specific keywords/hashtag/user mention, user mentions, locations of user mentions, hashtags most used within tweets containing keywords, and more. Free to use.




If you'd like assistance with your online marketing or #HashtagStrategy, please send an email to Support.



   Return to Marketing Tutorials