When To ReVamp Your Primary Marketing Tool
A business website is a big deal – it represents your company to millions of people online every day. Having a website is like having strangers constantly walking through your front door opening your cupboards, using their white glove on the window sills, looking in the refrigerator. If one thing isn't right – they'll find it, for sure.

Online technology and trends are ever-changing, and the website you invested your time and money in a few years ago, may not be delivering the message you want, nor converting new customers you need.

Here are a Few Indicators Your Website Needs a ReVamp:

Your Conversion rates are low, or have steadily decreased
High level of Shopping Cart Abandonment
Bounce rate is high
Sales have dropped
Purpose /Brand /Goal of your site has changed
Site is more than 5 years old
Not mobile-friendly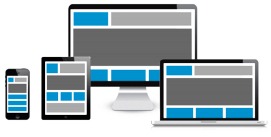 Ways to Improve Your Website's Reach:

Analyze your Content
SEO audit
Improve your site's navigation
Remove outdated structure and elements (frames, tables, flash, etc)
Make your site Responsive and Mobile Friendly
Convert your site to WordPress
Establish Social networks and work consistently
Modify your Marketing strategy
Competitor Analysis
Establish Local presence





ASK Yourself:
Does my website represent my business the way I want it to?
Is my website optimized to reach the greatest number of people in my target market?
Is my website functioning properly on a daily basis?
Does my website look better and offer more than my competitors?

If you've known for a while you want to do something different with your website, or suspect your site traffic is down but don't quite know how to fix it, contact Support – we'll offer you solutions.
   Return to Marketing Tutorials