14 Tips to Increase Instagram Engagement for Brand Awareness

Nov

12

2018
Categories: Marketing,Social Media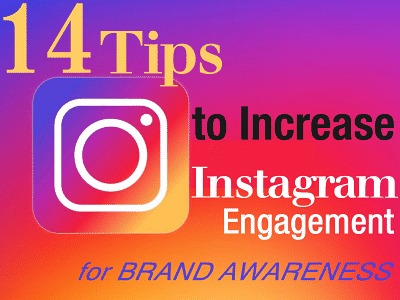 Engagement Defined
Engagement is more about the level of involvement with your Brand content rather than about the size of your cumulative audience.
Engagement rates on any social media channel is basically the measure of how loyal your followers are to you and your business.
Engagement Parameters
Key elements for tracking Engagement are:
Followers
Comments
Share and Reposts
How Important is Engagement?
Instagram uses Engagement as a metric to calculate where your content appears in a followers feed. The Engagement metric reflects follower activity and interaction. Instagram translates Engagement as a sign that followers want to see more of your content, resulting in a higher placement level in their feeds.
Ways to Increase Engagement on Instagram:
Make Use of Instagram Stories
Stories can expand your follower base because those who don't follow you will be able to view, so you're increasing your Brand visibility.
Analyze Best Time to Post
Post content during timeframes followers will most likely be browsing. Use the Instagram insights tool each week to view your data. More info here: https://www.facebook.com/help/1533933820244654
Leverage #Hashtags
Don't use generic #hashtags, such as #holiday or #apparel. Always use your Brand designated #hashtag in addition to several other focused #hashtags. Experiment to determine those which best connect to your follower base.
Post Meaningful Content
Post content whether it be text, stories, captions, images or video that will coax followers to engage.
Engage with Competitor Followers
Identify similar business brands and monitor the type of content they're posting. Post comments and interact with their audience. Be sure your posts are useful and helpful so the competitor won't be offended.
Don't Burnout Your Audience
Limit posts to one or two videos/photos per day. Limit text content with a photo to three per day.
Simulate Best Performing Posts
Each month identify your posts receiving the most Engagement and modify into new similar posts.
Choose One Filter and Be Consistent
Selecting and using one filter helps to identify your brand with followers, and individualizes your posts.
Teases and Hints
Post hints of new products/services, big changes, or special events which make followers feel they're a part of your special community and keeps them coming back.
Use Geotags
Add location tags to posts which will draw in local exposure and allow you to interact with those in your region.=
Comments Rule
Always reply to comments and include a question that reaches out to everyone for Engagement.
Utilize Stories Highlights on Your Profile
Highlights lets you group together past stories in a dedicated section. Highlights is located below your Instagram Bio. Make Highlights from stories you've shared in the past. Highlights do not expire.
Add a Call-to-Action (CTA) to your Posts
Include a call-to-action in post captions and ask them to comment, which will increase overall Engagement.
Post a Contest Giveaway
Periodic contests are great for motivating followers to tag friends which will ultimately increase your follower base.
   Return