3 Instagram Story Types that Work for Businesses

Nov

23

2020
Categories: Marketing,Social Media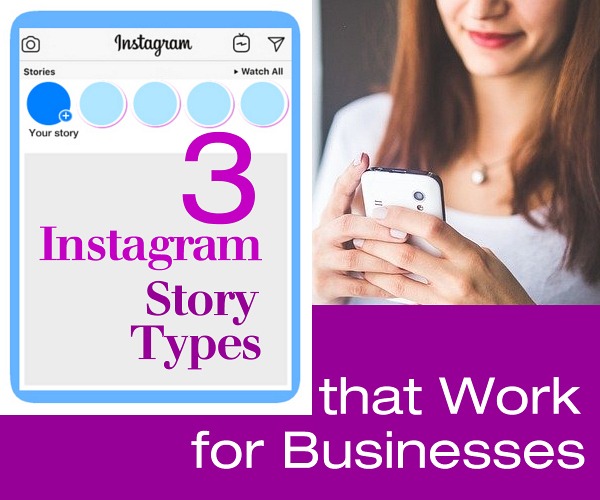 Local and small businesses have found using the Instagram stories feature helps to boost engagement, and sales.
Why?
Instagram is a platform that people spend time on – they watch things they weren't specifically looking for, and find themselves clicking on stories where their interest is piqued. Quite often - they'll see a story, or click on an ad, then go on to buy the product.
Instagram data shows their stories feature now has over 500 million daily active users, so it's a feature businesses shouldn't overlook utilizing.
About Stories
Stories display in a bar at the top of your feed.
New stories are visible for 24 hours.
Stories add a level of interaction and engagement that can't be achieved through regular feed posts.
Stories work well for creating a bond with viewers, and promoting seasonal sales.
Story Types Businesses Like to Use Include:
1) Story Highlights
Businesses use highlights as an extension of their bio, and can include what you do, who you are, along with displaying products and services.
2) Live
Instagram Live is an extremely good method to boost engagement, and can be used to debut new products, offer time-sensitive discounts, discuss seasonal events, have a question & answer session with followers, etc.
Many live videos get placed into 'Top Live' on the Explore page. Instagram provides a curated selection of live videos based on view count, location and language.
3) Parcel Out the Story
Brands aren't limited to the number of times per day they can post to stories. Use stories to post a series of incremental information.
Events and promotions can be a one-per-day thing, with the last story in the series being a CTA (call-to-action) back to your website or local store.
A Few Tips:
Location and Hashtags
In stories, always tag locations to increase your business's discoverability to people that don't follow your account. Research which #hashtags are used most often by your target audience and your competitors, then be sure to include in your stories.
Questions and Polls
Brands make use of the question sticker to invite people to ask them questions, as well as asking questions that will give them more insight into their audience.
Meet and Greet
Team up with a local business you think your customers would enjoy knowing about (non-competitor of course), and hold a talk sesh in stories.
Need help with your Instagram account? We offer social media packages to fit your needs.
More to Explore:
Online Local Marketing Quick Facts
Tips for Running a Simple Ecommerce Website
   Return