3 Reasons Why a Facebook Shop Also Needs a Website

Sep

21

2020
Categories: Design,Social Media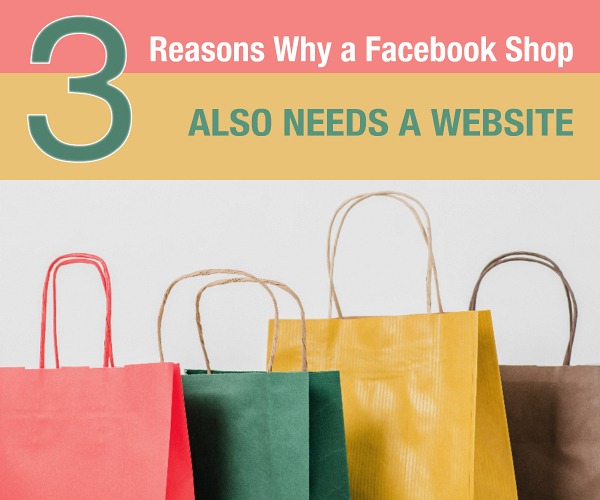 The trend is for people to just set up a business Facebook Shop and start selling, but their website is getting lost in the shuffle. Either there isn't one, or if there is – it's being neglected.
Are you depending on Facebook to make all the magic happen?
Let's take a look at a few reasons why businesses need to have a website along with a Facebook Shop.
Reason #1 - Who's in Charge?
When you have a Facebook Shop:
You have no control over how Facebook uses your content, once you've posted to their platform.
When you sign up for a Facebook account, you agree to their Terms of Service which states:
"You grant us a non-exclusive, transferable, sub-licensable, royalty-free, worldwide license to host, use, distribute, modify, run, copy, publicly perform or display, translate, and create derivative works of any data, content, and other information provided by you or accessed by us in connection with the Merchant Commerce Features, including photos, videos, and Product Listing content, in connection with the Facebook Products." Commerce Product Merchant Agreement
Reality:
You give Facebook permission to use your content in any way they choose. This includes your photos, text, videos and everything in-between. Bottom line - Facebook has the ability to turn off any shop and any page, immobilize functions, raise fee costs, etc - any time they want.
When you have an E-Commerce Website:
You have control of your content.
Only you can make changes.
Reason #2 – Brand Recognition and Trust
Brand recognition is a big deal. Marketing solely on Facebook – or any single platform isn't the best idea.
Having a strong digital presence is a long-term goal for all businesses, so why restrict yourself to just Facebook?
On Facebook, your Brand isn't protected and is constrained by Facebook and their ever-changing policies.
Facebook may receive millions of views but that doesn't mean those millions of people are seeing your pages or your updates.
A website:
Lets people know they're buying from your business directly – not from an e-commerce platform owned by someone else.
Lets your business build Brand credibility and loyalty because you own the sale, as well as the customer.
Lets you tap into repeat sales, which are the back-bone of e-commerce growth. Owning your own website opens up a direct communication line for customers to reach out to your business, and gives you more opportunities to connect with buyers to ensure their long-term satisfaction.
Lets you improve optimization for organic results of your Brand and website placement in search engines. Optimizing Facebook Shop listings with Facebook Ads will only go so far when there are millions of other listings and the best placement usually goes to the highest payer.
Reason #3 – Marketing Opportunities
With a Facebook Shop you can't:
Share a new product, videos, or any type of content with a non-Facebook audience. A good percentage of buyers in your target product(s) group may not use Facebook and don't want to sign up for an account.
Predict the future. Since 2017, engagement on business branded posts fell 20% and those numbers continue. Speculation being - there is more content being posted than is being viewer connected.
(source: Buzzsumo)
Provide everything needed for a sales cycle. As a business, you want more than Facebook can deliver. You need the ability to deliver the right marketing messages to the right people. While you can't guarantee a good spot in newsfeeds, you can be sure customers recognize you in their Email inbox.
What More Reasons?
Advantages to an e-commerce website over a Facebook Shop include:
A website acts as the hub of all your marketing strategies.
A website offers more options to extend Brand recognition and Trust levels.
If a website experiences technical difficulties, you can call your hosting provider and speak with a live person to sort things out. You can't call Facebook and talk with anyone about why you're experiencing a particular issue, or ask why are your pages running slow.
A website lets you sell from wherever you want, and increases customer contact. You can offer pick-up locations, you can drive sales to a pop-up store or to a physical retail location.
Selling from a website allows you to retain control of the shipping aspect when it comes to quality, consistency, shipping options, and return policies.
A website lets you create a more unique shopping experience for the buyer - because you control the layout, the format, the overall theme, and the design.
Your own company website can do a much better job of conveying your Brand story that will connect with new and repeat customers.
So . . .
Having a Facebook Shop without also having a website is a classic example of putting all your eggs in one basket. Facebook is best used as a marketing opportunity for your e-commerce website – not as a primary online presence.
Want to transition from selling on Facebook to your own e-commerce website?
Would you like help integrating your Facebook Shop with a website?
We can help! Let's start a conversation.
   Return