Podcast from Passion – Learn How to Start

Aug

14

2017
Categories: Marketing,Social Media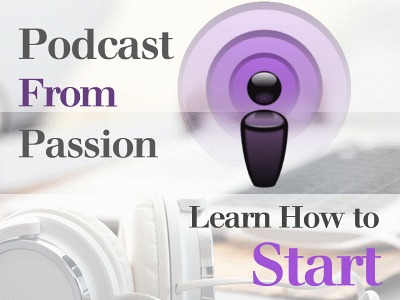 For Those Unfamiliar - What is a Podcast?
A Podcast is a series of audio or video recordings.
A Podcast episode is one audio or video file from that series. The word 'Podcast' refers to a series of audio or video files, while a 'podcast episode' is one audio file from that series.
Podcasts are similar to Radio shows and each Podcast series will have a specific theme. Each Podcast episode will talk about a particular subject in that theme.
The difference between an Audio File and a Podcast Episode is that a Podcast Episode is an audio file you can subscribe to through an RSS feed.
An audio file on its own is just an audio file. An audio file that's uploaded/transferred to a website or other outlet, and included in an RSS feed that can be subscribed to is a Podcast.
How to Listen to a Podcast
You listen to Podcasts on a Podcast Listening Device, such as a smartphone, iPod or computer.
Podcasts are just like radio programs you subscribe to. Once subscribed, you'll have access to either download, or Stream with wifi to your listening device.
When you Download a Podcast, they're stored on your device.
When you Stream a Podcast, it will play directly from iTunes or other podcasting application.
Why Would You Want to Start Podcast?
What are you passionate about?
Do you have a business?
Do you have a hobby?
Do you teach?
Share your expertise, opinions, creativity, thoughts, experiences.
Establish yourself as an Expert in your Chosen Niche.
Whatever you're good at, whatever you know about – think how you can translate that to audio.
Any subject you can imagine can become the topic for a Podcast.
Make your Voice Heard.
Market your Brand.

Have some Fun.
. . . all from the comfort of your own home, closet, shed, garage - or wherever.
How to Start Your Own Podcast
Basic Equipment Needed to Produce a Podcast
Laptop or Desktop computer
External Microphone (go with a high quality one)
Microphone Suspension Boom Scissor Arm Stand (to hold microphone)
Pair of Headphones
Foam Ball & Pop Filter (to reduce noise)
Editing Program to Record Episodes and Edit Recorded Episodes
Podcast Media Hosting & Editing Options
Libsyn - http://libsyn.com/
Publishing tools, media hosting and delivery, RSS for iTunes, a Website, Stats, Advertising Programs, Premium Content, Apps for Apple, Android & Windows devices. Plans start at $5 per month.
Podbean - http://podbean.com/
Complete Podcast hosting and editing platform with plans starting at $3 per month. Create pro Podcasts without programming knowledge with tools to upload, publish, manage and promote.
Audacity - http://www.audacityteam.org/download/
A free, easy-to-use, multi-track audio editor and recorder for Windows, Mac OS X, GNU/Linux and other operating systems. Audacity is free software, developed by a group of volunteers and distributed under the GNU General Public License (GPL).
Royalty Free Music
You'll be using music to record a musical Intro and Outro, same music can also be used at different points within your episode.
Royalty free music is available from a number of online sites, here are a few:
Incompetech
http://incompetech.com/music/
Free music with creator credit, most under creative commons licensing.
Jamendo
https://www.jamendo.com/
Free music with most under creative commons licensing.
SoundDogs
https://www.sounddogs.com/
Production Music Tracks and Sound Effects
PartnersInRhyme
https://www.partnersinrhyme.com/pir/free_music_loops.shtml
Music loops, Music Clips and Sound Effects
Prior to Actual Launch of Your Podcast
Build an email list of Subscribers so you'll have a list to send the dates of your Podcast episodes.
Set up pages and profiles on Social Media (Facebook, Twitter, Instagram, LinkedIn and Google+ to spread the word of your upcoming Podcast.
Contact family and friends to act as your Launch Team. They have to commit to subscribing, downloading, reviewing and rating your Podcast once it's launched. Set up a private group on Facebook, so you can communicate easily with all involved.
Submit Your Podcast to Directories
Submit your Podcast to relevant directories, you'll need this exposure to grow your audience.
iTunes
https://help.apple.com/itc/podcasts_connect/#/itcd88ea40b9
Google Play
https://play.google.com/music/podcasts/publish
Stitcher
http://www.stitcher.com/content-faq
TuneIn Radio
http://help.tunein.com/customer/portal/articles/1215148-how-do-i-add-my-podcast-to-tunein
More Directories for All Types of Podcasts
Digital Podcast
Easy to use directory, powers AllPodcast.com and others
FMG Podcasting
Originally started as Women in Podcasting, now includes men. Focus is on 'Life in Balance.'
iHeartRadio
One of the largest streaming radio and Podcast directories online.
iTunes
The biggest, the best and the most important, iTunes has the largest audience with the most universal reach.
Learn Out Loud
Majority of Podcasts on this site are educational or informative
Podcastpedia.org
Listings are easily structured for search and accessibility.
Stitcher
Considered one of the "top priority" directories to get listed in
Quicklist of First Podcast General Tasks
Decide what your Podcast episode format is going to be: topic based, guest interviews, Q and A, or a mixture – episode length and episode frequency.
Name Your Podcast
Buy a Domain Name for Your Podcast Series
Create a Logo
Create Graphic Templates for Headline and Quote Images
Buy Equipment
Decide upon Hosting and Recording Software
Set up an Email for subscribers
Set up Social Media accounts
Create Outline of First Podcast Episode
Record First Podcast Episode
Write and Record a Standard Intro and Outro
Write and Record an Ad Spot
Choose Background Music
Mix a Sample of the intro / Outro, Ad and Music
Write iTunes Copy for your Podcast Series
Create a Podcast Page on Your Website
Submit and set up your Podcast show in Libsyn, iTunes, Google Play, Stitcher, TunIn Radio
Ask Others to Review your Podcast in iTunes
Happy Podcasting !!!
   Return