Citations Help Improve Search Engine Rankings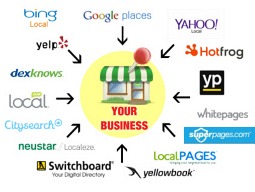 A Citation is a mention of your business on the internet, with or without a link.

A complete (or structured) Citation includes a company name, address, and phone number, anything less is considered a partial (or unstructured) Citation.

Complete Citations are found on business listing sites such as yellowpages.com, yelp.com, superpages.com, etc.
Partial Citations are found on job sites, government sites, blogs, event listing websites, etc.

A Citation can be:
- a company name, by itself
- a company name and phone number
- a company name, phone number and address
- a company name, phone number, address with a link

On the Local level - companies and businesses are wise to focus on building a solid core of Citations that not only expand their visibility, but also strengthen search engines' trust in the validity of their business. The number one ranking factor in competitive local search markets are high quality, authoritative citations.
Local Business Citation Sources

- Local Search Engines

Search engines such as Bing and Google crawl the internet looking for Citations that will either correct or validate a business' information in their own index. Getting listed on sites such as Hotfrog, Foursquare and similar – plays a big part in boosting the search engines' confidence in the accuracy of your business/company name, website and location. A citation strategy should be developed that ensures your business is listed in as many relevant and quality local business directories as possible.


- Locally Focused Directories

Local directories are well indexed by search engines and are associated with particular cities or regions. When submitting, keep in mind that directories edited by real people are less susceptible to spam and are more trusted by local search engines.
Examples of locally focused directories are Best of the Web's Regional Directory and CitySearch, where searches can be performed by city and/or state.
- Local and Industry Focused Blogs and/or Directories
Websites that aren't focused on a particular region, but are focused on keywords and topics directly related to your services and/or products, can also be sources of Citations. To learn which sites are relevant for you to get listed on, perform a search for [your industry] directory or [your keyword] directory. You can also add your town, city or state to the search.
Example Search:
enter into browser: [auto parts connecticut] directory
note: change auto parts connecticut to your service/product and location
Brings up thousands of results. Scan through and make a list of sites that you'd be able to get a listing on … they may be forums, blogs, event sites or directories.
To see how many local listings you have, run your business information through one of these sites:
In the example below, see the results of a business listing using the MOZ local search.
Results will display how complete your business listing is on each search engine. Information returned may show as complete, incomplete, inconsistent, duplicates: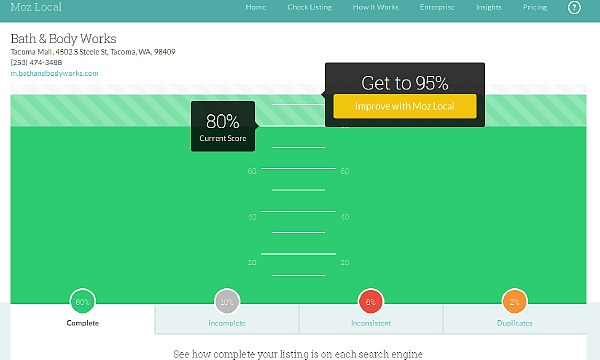 In the example below, note how the icons are displayed of the different directories and search engines.
Hover over each green section to display data as pertaining to your business, specific to each network directory. Clicking each icons' green area takes you to that directory listing.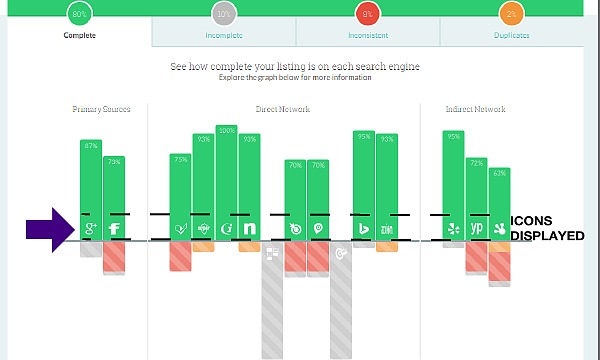 In the example below, Google shows the business listing as Incomplete.

Click on the green section and you'll be taken to the Google local listing. From the listing you can "claim your business" and make information changes to improve the listing.
In the example below, Citysearch shows the business with Incomplete and Inconsistent data. Click the Citysearch green area to be taken to the listing, from there you can claim your business and then enter listing revisions.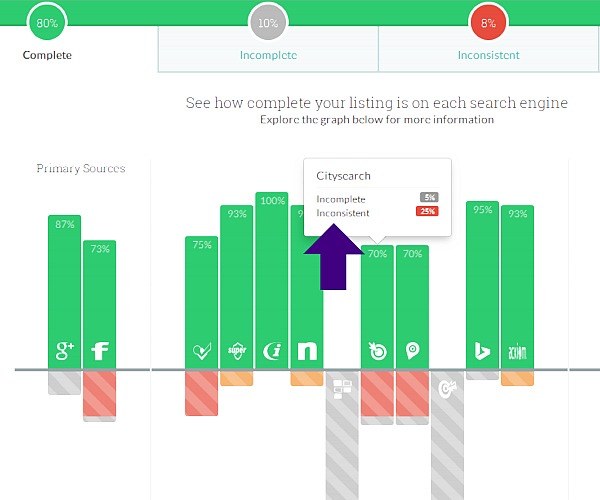 If you'd like assistance with an online Citation strategy, send an email to us at Support.
   Return to Marketing Tutorials