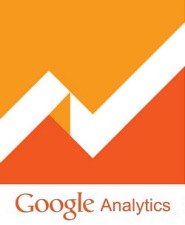 Google Analytics allows you to clearly see where your website traffic is coming from and how visitors move around on your site.


All new Google Analytics Accounts are created with Universal Analytics. If you already have a Google Analytics account, you can
upgrade to Universal Analytics from your original profile.

Universal Analytics utilizes an expanded set of reporting options, giving you more Features and better Insights into understanding how visitors interact with your online content.

If you've already signed up for Google Analytics, or use another Google service, Sign into your account to add Analytics. If you don't have an account, Sign Up for a new Google Analytics here.
You should create a new Analytics account for each of your websites.


To Add a New Account:

- Select the "Admin" tab.

- In the "Account" column, select "Create new" account from the dropdown menu.

- Click Website or Mobile app

- Under "Setting Up Your Account", enter an Account Name.

- Under "Setting Up your Property" enter the website (or app) Name.

- Enter the Website URL:
- - select protocol standard: http:// or https://
- - enter domain name without any characters: enter: www.website.com not www.website.com/

- Select an Industry Category

- Select the Reporting Time Zone

- under Data Sharing Setting, select your preference.

- Click "Get Tracking ID"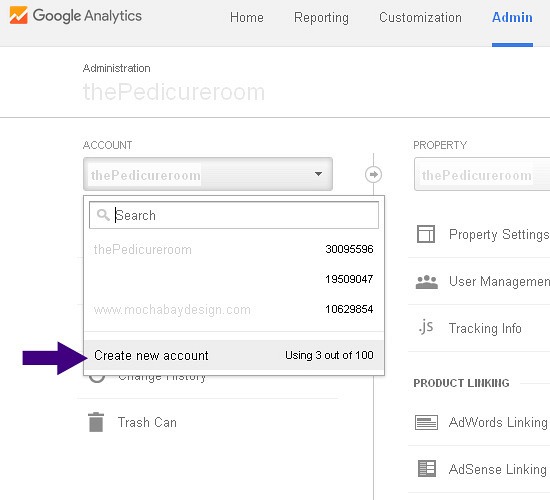 Setting up a New Property Account example: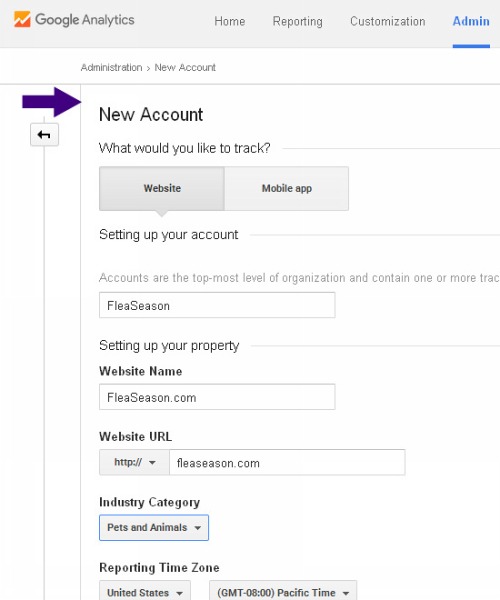 2. Add the Analytics Code to your website.

You have two options for adding the Analytics tracking code to your website.

a) Add the Google Analytics Tag to your website using Google Tag Manager.

b) Add the tracking code directly into the HTML on every page of your website.


Note: If your website uses Dynamic Content Implementation, you can use a common include or template to paste the code instead of manually adding it to every page.

If your website is on the WordPress platform, the Admin dashboard will allow you to enter the snippet for proper placement on all pages.


Add Analytics Tracking code using the Google Tag Manager:

The Tag is a snippet of code that send information to Google and you specify which tags you want to use and when. Read more about the Google Tag Manager here.

To add Google Analytics tracking to your site, add the Google Analytics tag to your container in Google Tag Manager and publish the container.


To install a Google Analytics tag, create a new tag and select Google Analytics as the tag type. Select a trigger for the tag to fire, such as "All Pages", and then configure your Google Analytics tag by providing your Google Analytics tracking ID.

Give your tag a name (eg: "Google Analytics Pageview Tag") and enter your property's Tracking ID in the required field. You can find the Tracking ID from within Google Analytics listed in Admin > Property > Property Settings or in Admin > Tracking Info > Tracking Code.

Alternately, you can find the Tracking ID by clicking on Home and expanding the Account folder; the Tracking ID will be listed next to the Property Name. In any of these cases, the number will have a format that looks like this: UA-xxxxxx-xx.


View Google Tag Manager Help for more Information.



Add Analytics Tracking code Directly to your website:


Note: In order to Add the tracking code, you should to be comfortable editing HTML and have a Google Analytics account and property already set up.


1. Find the Tracking code for your website property.
- sign into your Google Analytics account
- select the "Admin" tab
- From the "Account and Property" columns select the property you're working with, click "Tracking Info > Tracking Code"

2. Find your Tracking Code snippet.

3. Copy your snippet.

4. Paste your snippet into every webpage you want to track. Paste the snippet immediately before the closing HTML tag.

5. Check the setup by making sure the tracking snippet is installed properly on your website.

When you're signed into Google Analytics, navigate to the property you added the tracking code to.
- click "Tracking Info > Tracking Code"
- review the tracking code status message



If you would like assistance setting up your Google Analytics account, please email Support.
   Return to Marketing Tutorials