If you previously used Google Places for Business or Google Plus Pages Dashboard to manage your business information, your account has been automatically upgraded to Google My Business.

Google My Business makes it easier than ever to update business information across Google Search, Maps and Google Plus. Keep in mind, if you have a Gmail account, then you already have a Google Plus (social profile) page, which is needed to create a Google My Business listing.

Google Plus = Social network
Google My Business = Local listing



Google's relatively new My Business feature gives you the option of creating:

a Google Plus Brand, Organization or Artist Page, read more.

a Google Plus Service Area Page, read more.

a Google Plus Local Page (Shopfront Page), read more.


The difference between a Service Area and a Local/Storefront page is you need to have a physical location that can be verified (equivalent to Google local pages), and a Brand Page is for businesses that don't have a physical storefront. Find more info here within Google support.


What is Google Plus?

Google Plus was established as an interest-based platform offering multiple ways to share content with interested audiences. Google Plus should be used to build relationships with real people, leading them to share your posts and linking to you on their blogs and/or websites. Cultivate Google Plus the same as other social networks in your online marketing strategy.


Indicators point to a study conducted by SearchMetrics showing that Google Plus contributes to a strong ranking factor, even stronger than backlinks. Many believe as long as Google Plus continues to exist, Google will keep on using its shares as a ranking factor.


How will Google Plus help with your online business?

The Google Plus platform works in tandem with Google Search, leaving potential for ranking higher in organic search results, and integration with relevant Google for Business services. Google Plus visibility can help attract customers looking for your type of business knowledge and information. Google Plus provides a forum to promote posts, sales, and other varied content to a large audience and from those within your Google Plus 'Circles' and Google Plus 'Communities' and Google Plus 'Collections'.

With Google Plus Circles you can divide up people you follow on Google Plus. While your followers don't know which Circle you've placed them in, it's basically a way for you to arrange your people into groups to your preference. As an example, you may have a Circle for Family, one for Friends, one for Existing Clients, one for Peers, one for Marketing (sharing information and expertise about your product/service/profession), and so on.

Google Plus Communities resonate traditional internet message boards, and they're started around a specific theme and/or subject. Communities thrive by followers interacting with other individuals exchanging information and ideas around a subject they are all interested in. The Community moderator is allowed to post personalized content to that specific Community, so it's an environment where a business owner has a good opportunity to share their knowledge an expertise.

Google Plus Collections is similar to Pinterest, but Google has taken Collections one step further. You can post and share images on topics you're interested in, as well as video, articles, links, polls and Google documents (doc, sheet, slides). Every collection is a focused set of posts on a particular topic, providing an easy way to organize all the things you're interested in. Each collection can be shared publicly, privately, or with a custom set of people. Once you create your first collection, your profile will display a new tab where other people can find and follow your collections.



If you haven't paid attention to Google Plus yet, let's get started:

There are several identity types you can create with Google Plus. You may be confused which Google Plus page is best to create for your business. Keep in mind, if you have a Gmail account, then you already have a Google Plus page.

Sign into https://plus.google.com with your Gmail address and password. If you've never developed your Google Plus profile page, then yours will be blank.

The various Google Plus pages all must begin with a Google Plus Profile (a personal profile). Once you have your Google Plus Profile completed, you can add a Google My Business page to promote your business.


Before you're able to create any page, you first have to develop your Google Plus Profile. Any subsequent business page you create will be linked to your Google Plus Profile.

To see if a Profile for you Exists click here. If it does, then go ahead and Edit your Profile to reflect the information you want people to see about you.

You can create a custom URL for your Profile such as google.com/+YourName, that becomes a short and easy to remember web address to find your Google Plus Profile.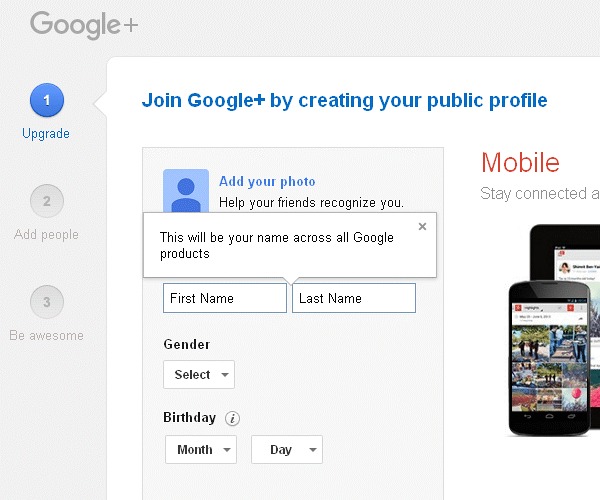 Add to your Google Plus Profile:

- Profile Photo/Image: Use a photo or logo that's consistent with your already established branding on other social media accounts.

- Tagline: Use the same Tagline you already use on other social media.

- About: Fill out with enough information so your profile can easily be found in a Google search.

- Contact Information: Include information making it easy for clients and potential customers to reach out to you.

Once you click on the blue "Upgrade" button, you're account will go live.



General Information

Most Local Pages also share the functionality of other Google Plus Pages, you can create and manage circles, start and join hangouts, and share content like posts and photos.

Brand, Organization, and Artist pages don't include an address or physical location information for display on Google Maps.

A single Google Plus account can manage up to 50 business pages.

Plus One (+1) is a 'virtual recommendation', and indicates you like a post or content.
If you Share content, you're going beyond a +1, and Recommending a post to your Followers, and improving the visibility of that post.

'Mentioning' or tagging a person is the strongest social signal of Google Plus, used to acknowledge a person's contribution (in public or private).




Additional information within Google about Google Plus and Google My Business information for Local, Brand, Storefront businesses can be found within the Google Help center.

Additional Information within Google about Circles, Collections and Communities can be found within the Google Help center.




If you'd like installation or configuration assistance with your website social media, open a support ticket by emailing support@hostingct.com.


Subscribe to our email newsletter and receive future website technical and marketing tips.


   Return to Marketing Tutorials