Submitting Your Business Website to Bing Places
Many people concentrate their efforts on Google, which holds the largest search market share. If you haven't submitted your business website to Bing Places, it's time to do it now.
As of April, 2015 Bing alone holds 20% of the Search Market Share. Yahoo sites which are powered by Bing hold a 12% search market share, so overall they hold a 32% search market share.
Do This First:
Find out if your website has been indexed by Bing by submitting your website URL to Bing.
https://www.bingplaces.com/DashBoard/Home
Also be sure to register at Bing Webmaster Tools to view if Bing is sending your website any traffic, and if they are - what type of traffic Bing is sending your way.
http://www.bing.com/toolbox/webmaster/
Bing Places for Business


Bing Places is for local businesses as well as small-large chain businesses and will help by showing your business in their local search results, which ultimately gives your website more visibility to online customers looking for your service/product.
Once you've established your business website at Bing Places, be sure to keep it updated with accurate information such as business hours, and what you offer.

Note: In order to submit to Bing Places, you'll need a Windows Live ID account.
You can create one at https://signup.live.com/signup
Not familiar with Windows Live?
When you sign into any number of platforms, you probably use a Windows Live ID.
It's the email address and password you use to sign in to any of the following:
Xbox LIVE, Zune, Outlook.com (formerly Hotmail), MSN, Messenger, Find My Phone, OneDrive (formerly SkyDrive.
Follow These Steps to Add a New Local or Small Business

1. Sign into the Bing Place for Business website. https://www.bingplaces.com/

2. Don't Add your business before checking to see if Bing Places already has your business name there. If they do - you can claim your business name and update an existing listing instead of adding a duplicate.

3. Select the country where your business is located.

4. Provide your business name and location. Click 'Search' button.

5. If you see multiple results, select the result that matches your address.
6. If you selected from search results, review the information and update as needed.
7. If you don't find your business in search results, click the "Create new business" button to create a new listing.

If your website is already listed at Bing Places, it will appear (see display of Hosting Connecticut, LLC) and at this point you can choose to either leave the listing as-is, or revise.
Once your business listing is verified, it will appear as below: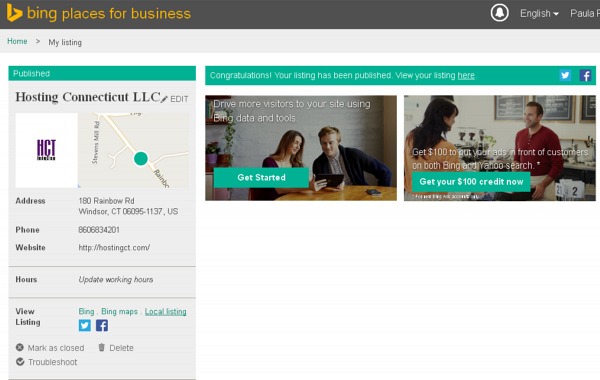 If Your Business Doesn't Have a Physical Store

Businesses without a physical store offering services at customer locations, may choose to hide their address from search results. Businesses without a physical store might be service providers such as tutors, plumbers, electricians.
Use the following steps to hide your address.

1. Sign into the Bing Places for Business website.

2. Click the 'Edit' link on the top left of the dashboard.

3. Click on the first tab 'Enter Basic Info' if it is not currently active.

4. Make sure the "Hide address line from search results" option is selected.

5. Make sure to click 'Submit' in the last tab of the edit screen.
If you choose to hide your business address, Bing search results will display the city and zip but not the address line.
Complete Your Listing
To make sure your Bing Places listing gives customers the best information possible about your business, here are a few tips to help ensure your listing is complete.

1. Always include name, address, phone and category.

2. Add links to your website and social media pages such as Facebook, Twitter, etc.

3. Add business hours to let customers know when your business is open.

4. You have the option of adding up to 10 photos of your business. Add at least 2-3 photos.
5. Add a description of your business that includes services you offer. Highlight what makes your business special. Add information such as awards received or driving directions to your business.

6. If you're a "Food & Drinks" business; Add a link to your menu and include meal price ranges.

If you're a "Hotels" business, Add a list of amenities available at your business and your official star rating.

If you're a "Hair Salon" business, Add a list of most popular services; cuts, color, specialties.
You get the idea … no matter what type of service/product you offer, the more detailed information you include in your listing – the better it is for those searching for your specialty.

7. Add alternate contact information including a toll free number, mobile number and email.
8. Make sure your listing is verified.
Verify Your Listing
Your Bing Places listing can be verified in a variety of methods. All of these methods, except for the online option involve receiving a PIN and entering the PIN successfully at the Bing Places for Business website.

Depending on your business type and what Bing already has in their system about you, you'll be asked to verify either by Postcard, Email, Phone/Text, or Online.

Hosting Connecticut, LLC is listed at Bing Places, and this is how our website appears in Bing search: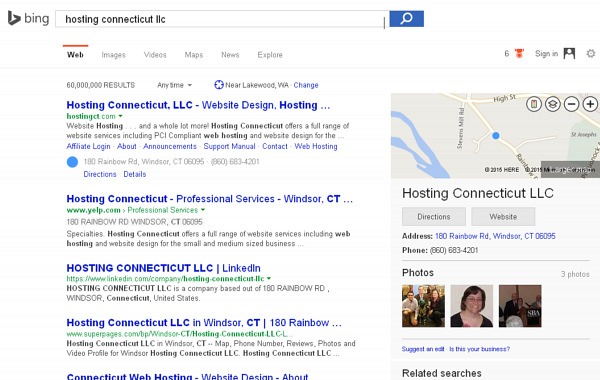 A Few Bing Places Tips:
Research shows that higher-ranking businesses appear to more frequently have images associated with their listings.

Be sure to add your business hours of operation. Your site is more likely to rank better during Open times of operation, particularly in mobile search.

Bing appears to treat "Specialties" similarly to categories or like subcategories, go ahead and add relevant specialties.

Just as with Google My Business (formerly Google Places and Google+ Local) and Google Maps, Bing Places needs to have citations and inlinks in order to rank well. Local citation sources which may be influential in Bing include Superpages.com, YP.com, Manta, and similar. Vertical directories work well also. Make sure you cultivate as many citations as possible.

Optimize your website to it's fullest potential. Website Optimization is important and gives your site a better chance of ranking highly in Bing Places.

If you would like assistance in setting up your Bing Places listing, or website optimization assistance, please contact Support.

   Return to Marketing Tutorials