What's a Gravatar, Why Use It, and How to Get One
The definition of Gravatar is "Globally Recognized Avatar", and integrates with WordPress and CMS platforms.

Acting as your personal online Avatar that's unique only to you - a Gravatar follows you across the online world, and shows up when you post on Blogs, or log into an account on another website. It builds online recognition and identity, acting as your personal online ID.

Gravatars can send traffic to your website and they're great for Branding purposes. Most people are less likely to click to your website while reading Blog comments, but when your Gravatar picture shows you as a real person and/or company – it inspires interest and trust – prompting viewers to see what "your" site is about, and to learn more about you.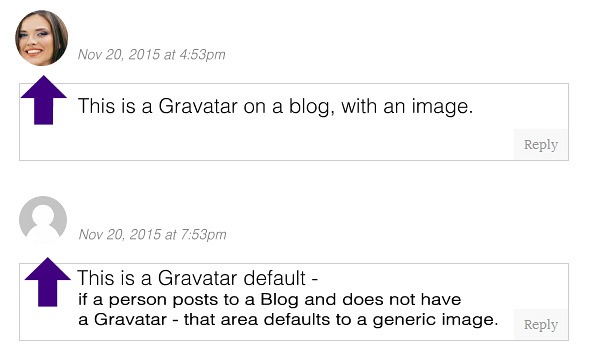 How to Get Your Gravatar

Sign up for a Gravatar, and configure your online profile at the Gravatar website.

You'll need to sign-in with a WordPress.com account. You don't need to have a WordPress.com website, just a WordPress.com account.




Set Up Your WordPress.com Account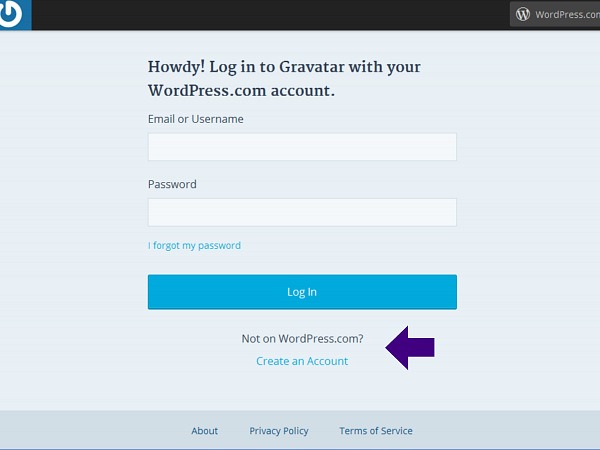 If you have a WordPress.com sign-in, enter your Email/username and Password.
If you do not have a WordPress sign-in, click on "Create an Account".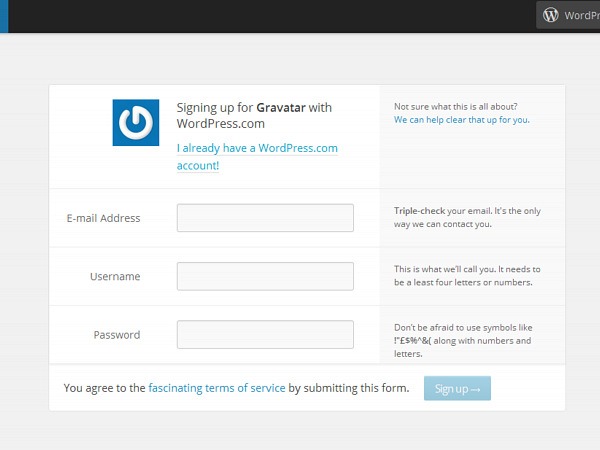 Here, you'll set up your WordPress.com account. Enter an Email, User Name and a Password. Click on the blue "Sign up" button, and wait for a confirmation Email in your inbox. You'll want to click that confirmation link to Activate your WordPress.com account.


Then sign into Gravatar with your new account info:




Manage Gravatar Image and Email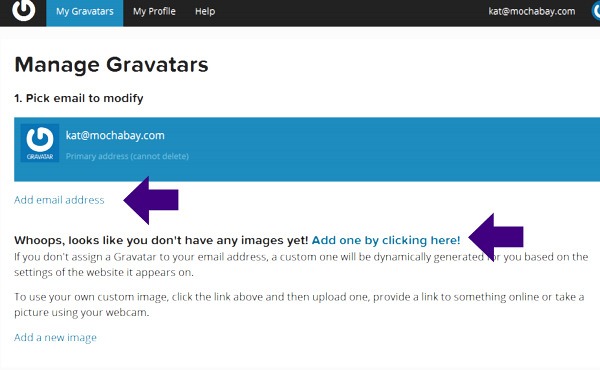 With a new account, you'll want to Add an image and decide which Email to use for this account. Add an Email here, if you won't be using the one you signed up with.

You'll be required to select a Rating for your image: G, PG, R, and X, and it's best to use a G or PG rated profile, as the R and X rated images are most often blocked on most WordPress sites.

A Gravatar (your profile picture) is linked directly to your Email address. When you sign in to comment on a Blog and use this Email, you've connected your Gravatar image to your post.

If you own/run/contribute to a website running on the WordPress platform, use the Email in the WordPress Profile area and your Gravatar will display in your Author byline.

You do have the option of setting up multiple Gravatar profile images under a single account, by using the "Manage Gravatars" area and clicking on "Add a New Email".




Edit Your Gravatar Profile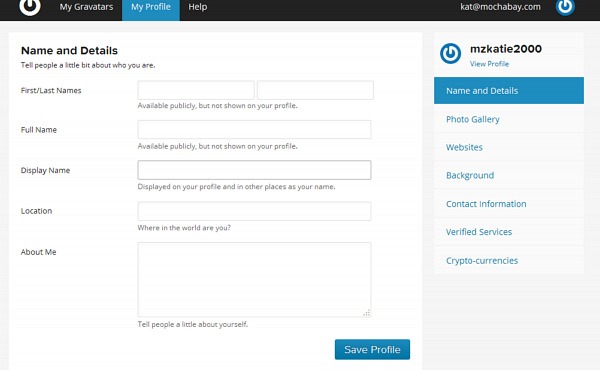 Under "My Profile" view the list of Options available for customizing your profile information.

- Name and Details
- Websites
- Background
- Verified Services

These are the top four areas you should fill in.

In the Name and Details > About Me area, you can use HTML links.

The Websites area is where you can Add links to your website and Blogs, or any sites that help describe who you are.

The Background area is where you can Add a Full Screen image, and/or change the colors.

The Verified Services area is where you should list and connect to your social media channels such as Twitter, Facebook, LinkedIn and Google+ .


That's it! Doesn't take too much time at all!



If you'd like assistance with setting up your Gravatar, send an Email to Support.



   Return to Marketing Tutorials