Hosting CT Receives SBA's Home-Based Business Champion Award

Apr

1

2008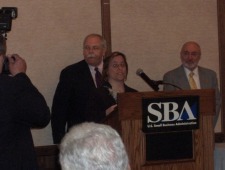 The U.S. Small Business Administration has selected Paula M. Pierce, owner of Hosting Connecticut, LLC, Windsor, CT as the 2008 Home-Based Business Champion of the Year for Connecticut and the New England Region. Winners in this category have experienced the rewards and difficulties of running a home-based business and have volunteered time and energy to improve conditions while working to enhance the home-based business climate.

Pierce runs two profitable businesses out of her home in Windsor, CT: PaulaWalla Imports, an online gift shop, which recently celebrated its 10 year anniversary and Hosting Connecticut LLC, a website development company, which is currently celebrating its 5 year anniversary.

As an online retailer she os able to assist her web site development clients in navigating the online world using her own online retail experience, a rarity among other web site developers.

Pierce has recently been elected President of the Windsor Chamber of Commerce and has served on the board since 2004. She has also served on a number of Chamber committees, such as the Annual Benefit Auction, White Lights, Revolutionary Windsor, Technology and Tourism.

Pierce is a Notary Public, the volunteer E-newsletter Facilitator for MDA 31 Mass Vaccination Preparedness Clinic, and is the volunteer moderator of Windsor Freecycle, a grass roots group of over 1000 Windsor people keeping good, usable items out of the landfill.

An award celebration for the SBA 2008 award recipients was held Tuesday, May 20, 2008. For information on SBA programs and services visit www.sba.gov or call (860) 240-4700.
   Return