Adding Ecommerce to ElyseRyan.com Designer Jewelry

Mar

7

2016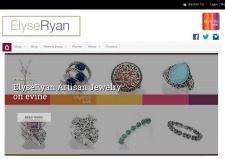 Hosting Connecticut, LLC announces the launch of a newly redesigned, responsive website with online store for Elyse Ryan and their nationally-recognized line of couture jewelry. Based in Connecticut, Elyse Ryan is owned by Elise Rosenstock who established the business in 1999. Elyse Ryan jewelry is worn by celebrities as well as auctioned off for a number of charitable organizations.

Rosenstock wanted to capitalize on the success of the jewelry line by adding an ecommerce capability to the website. She contacted Hosting Connecticut, LLC to add an online store including setting up an online merchant account as well as redesign the site using the present content management system.

According to Rosenstock, "With so many customers shopping online, it was time to build a website that highlighted our products as well as allowed customers to shop online using whatever device they want."

Hosting Connecticut's CEO, Paula Pierce, says, ?The new responsive website, in addition to providing a great user experience on mobile devices, added new functionality including a clean, professional online store. We have enjoyed working with Elise Rosenstock, and are always seeking ways to make her site ever more user-friendly, functional, and successful.?

Rosenstock added, "The entire process of transforming our former website into its new responsive, ecommerce presence was made so easy for me."

Visit Elyse Ryan online at http://ElyseRyan.com to view and purchase these one of a kind jewelry pieces, some of which offer proceeds to local charities.

Hosting Connecticut is a website development company based in Windsor, Connecticut that puts all the pieces of online business together from domain registration to online marketing. Hosting Connecticut streamlines the process, saving small businesses time and money. For more information, please go to www.HostingCT.com or call 860-683-4201.
   Return