A Fresh Start Online for James Construction

May

1

2016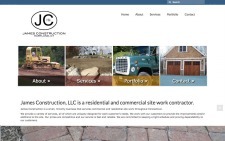 Roxanne and Joshua Frenette's online presence for their company, James Construction, has gone through several transformations over the years. They started the business in 2008 and went online in 2011 with a simple five page website that gave the basic information people needed. In 2013 they had the site redesigned to be more attractive, with larger photos of their equipment and projects.

Unfortunately, between 2013 and 2016, they lost control of their domain name, jamesconstruction.net and weren't sure how to get their website back.

They connected with Hosting Connecticut, LLC, a Windsor-based website development company and had a long chat with owner Paula Pierce. Pierce has been in the website business for over 15 years and had some good advice to help James Construction get back on track.

Pierce said, "It's actually a common occurrence for a company to lose track of their domain name record's location, especially if the person who designed the website is no longer in the picture. It can be a challenge to get control again, but it must be done if the business wants to keep their original website URL intact."

Frenette and Pierce worked together to create a new, responsive website that better reflects the professionalism of the company and works well on mobile devices.

"It's so important for websites to be mobile-friendly now that the majority of searches are being done on phones and tablets. Mobile-friendliness is also a factor the search engines consider when ranking websites in search results," said Pierce.

According to Frenette, "We knew our site had to be there when people search on their phones. It was definitely time to build a mobile-friendly website so visitors can really see our work and give us a call easily. A website is always a work in progress, but just having the new website online is a relief."

Visit James Construction online at JamesConstruction.net, or call them at (860) 601-3827 to learn more about their services in excavation, lot clearing, material delivery, utility installation, equestrian facility construction and more.

Hosting Connecticut is a website development company based in Windsor, Connecticut that puts all the pieces of online business together from domain registration to online marketing. Hosting Connecticut streamlines the process, saving small businesses time and money. For more information, please go to www.HostingCT.com or call 860-683-4201.
   Return