AIM For a Better Tomorrow Website Promotes Charity

Aug

16

2016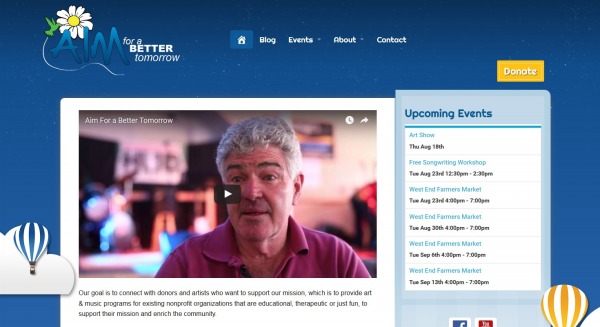 Hosting Connecticut Launches New Website for AIM For a Better Tomorrow
August 16, 2016

Hosting Connecticut announces the launch of a new, responsive website for AIM For A Better Tomorrow, a non-profit organization based in Bloomfield, CT. AIM is a unique charitable organization that brings the educational, artistic and charitable communities together to help people who are in "at risk" situations.
According to Rod Norwood, President of AIM, "Getting this charity off the ground would not have been possible without the assistance of Hosting Connecticut. The company's wealth of knowledge, experience and dedication is second to none." It was time to build a new mobile-friendly website that would allow AIM's non-technical volunteers to easily keep the site updated. Hosting Connecticut's owner, Paula Pierce, says, "The new responsive website, in addition to providing a great user experience on mobile devices, adds new functionality and content, including an interactive blog and enhanced social sharing tools. We are enjoying working with AIM, and are always seeking ways to make their site even more user-friendly and functional."
Norwood added, "Teaming up with Hosting Connecticut has helped us get the word out on social media as well, focusing our posts to get our message across. The entire process of transforming our former online presence into our new identity was made so easy by Hosting Connecticut, with Paula Pierce personally overseeing the project."
AIM hosts charitable events for fundraising and artistic expression frequently around Connecticut. A list of upcoming events and photos of past events can be viewed online.
Visit AIM For A Better Tomorrow online at http://aimforabettertomorrow.com, or call them at (860) 922-5903 or like their Facebook page https://www.facebook.com/AIMforabettertomorrow to learn more about this charitable arts & music organization.
   Return