Electrical Services By Phone - Alex Electric Inc

Oct

1

2016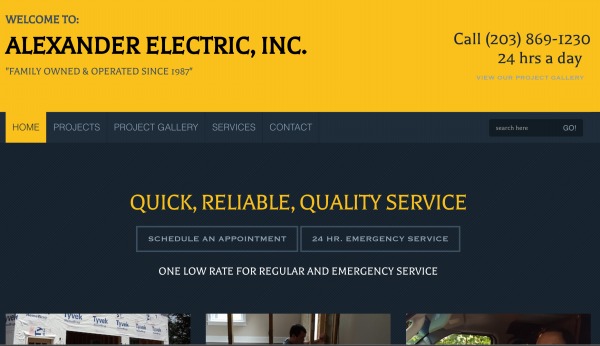 Google is planning on favoring mobile-friendly sites over non-mobile sites in their regular search results soon. 51% of internet usage is now accessed via mobile devices.* Websites that don't have a mobile solution are falling behind.
Alex Electric Inc found that out first hand when they saw how many of their prospects and customers were viewing their website on their phones. The owners contacted Hosting Connecticut LLC to reconfigure the website so it would be responsive (readjust its layout) depending on what device is used to view it.
According to owner, Alex Valeri, "With so many people using their phones when they are looking for service, we needed our website to be mobile-friendly so they could really see our work."
Hosting Connecticut owner, Paula Pierce, says, "The new responsive website provides visitors with an easy-to-use interface, emergency phone number access, and appointment scheduling." Sue Valeri added, "Paula made the project of redesigning our website very easy."
Alex is taking a double pronged approach to online marketing including both organic search engine optimization and paid search through Google Adwords, managed by Hosting Connecticut.
Visit Alex Electric online at http://AlexElectricInc.com, or call (203) 869-1230 to learn more about their residential electrical services.
Hosting Connecticut is a website development company based in Windsor, Connecticut that puts all the pieces of online business together from domain registration to online marketing. Hosting Connecticut streamlines the process, saving small businesses time and money. For more information, please go to www.HostingCT.com or call 860-683-4201.

*Source: 2015 Internet Trends Report from Kleiner Perkins Caufield & Byers
   Return