Hosting Connecticut Launches New Website for PhilipDavid.com

Sep

1

2015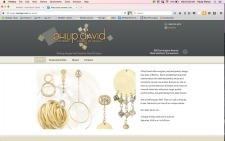 Hosting Connecticut and MODCO announce the launch of a new, responsive website for Philip David, a local artisan jewelry company. Based in West Hartford, Connecticut, Philip David fosters long term relationships with some of the most creative jewelry artisans in Connecticut . The retail shop and website offer a varied selection of jewelry with classic to unusual materials, a wide price range, quality workmanship, and good design that lasts forever.

According to Jennifer Muller, CEO of MODCO, "Creating the new, responsive website in the short time frame we had available would not have been possible without the assistance of Hosting Connecticut. The company's wealth of knowledge, experience and dedication is second to none." The old website was good, but needed to be updated so in-house staff could update the content easily and so it would display well on mobile devices. Hosting Connecticut's CEO, Paula Pierce, says, "The new responsive website offers a great user experience on desktop and mobile devices, new functionality and an enhanced featured artist display. We have enjoyed working with MODCO."

Visit Philip David online at www.PhilipDavid.com, or call them at (860) 232-6979 to learn more about their brilliant jewelry design.

Hosting Connecticut is a website development company based in Windsor, Connecticut. They pride themselves on putting all the pieces of online business together: domain registration, web site design, hosting, e-commerce, credit card acceptance, statistic analysis, marketing and more. Hosting Connecticut streamlines the process so all these necessities are available in one place, saving their clients both time and money. For more information, please go to www.HostingCT.com or call 860-683-4201.
   Return