Hosting Connecticut Launches New Website for Unitarian Society of Hartford

Sep

7

2015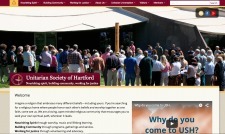 Hosting Connecticut announces the launch of a new, responsive website for the Unitarian Society of Hartford (USH), a lively, contemporary, diverse congregation serving greater Hartford, at USHartford.com

According to Bruce Robbins, chair of the USH website committee, "So many things had changed since we created the original website and we had added so many links to the home page that it needed simplifying and streamlining. We also sought a contemporary design that displays well on mobile devices, email marketing software and a content management system so staff can easily update the site."

Hosting Connecticut was able to create a new design that better reflects the dynamic nature and active community of USH, a new menu structure so all the content is within two or three clicks, and a content management system so staff can add new content easily and in the right places.

Hosting Connecticut's CEO, Paula Pierce, says, "The new responsive website provides a great user experience on mobile devices, and keeps all the relevant content at the users' fingertips. We have enjoyed working with Bruce and his team."

Sarah Gilligan, a member of USH and owner of Cerebration Writing and Graphic Design, added, "Teaming up with Hosting Connecticut made the entire process of transforming our former website much easier, with Paula Pierce personally overseeing every aspect of the project. Her flexibility, technical knowledge and responsiveness turned an extremely complicated project into a much more manageable one."

Visit Unitarian Society of Hartford online at http://USHartford.com, or call them at (860) 233-9897 to learn more about the church's programs and philosophy.

Hosting Connecticut is a website development company based in Windsor, Connecticut. They put all the pieces of online business together: domain registration, web site design, hosting, e-commerce, credit card acceptance, statistic analysis, marketing and more. Hosting Connecticut streamlines the process so all these necessities are available in one place, saving their clients both time and money. For more information, please go to www.HostingCT.com or call 860-683-4201.
   Return