Hosting Connecticut Launches New Website for Telework Recruiting

Oct

5

2015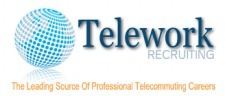 Hosting Connecticut announces the launch of a new website for Telework Recruiting. For over 20 years, Telework Recruiting has been dedicated to helping professionals in every field gain telecommuting employment; as well as assisting employers in sourcing qualified remote workers. Telework Recruiting continues to be one of of the few resources available to job seekers who are looking for strictly teleworking opportunities.

According to Pamela La Gioia, owner of Telework Recruiting, "We have expanded our services quite a bit since we created the original website. We needed it to be much more interactive for our members. We also needed a more contemporary design to match the forward progress of our company including better mobile display."

Hosting Connecticut created a new website that better reflects the wide-ranging services of Telework Recruiting, including dashboards for members and employers, an easy to use membership registration system, content management software so staff can add new content easily and integration with their email marketing and social media accounts.

Hosting Connecticut's CEO, Paula Pierce, says, "The new website provides a great user experience on mobile devices, too, and keeps all the relevant content at the users' fingertips."

Pamela added, "Teaming up with Hosting Connecticut made redeveloping our website much easier; with Paula Pierce personally overseeing the project, I never had a real worry. Her technical knowledge and dedication turned a complicated project into a success."

Visit Telework Recruiting online at www.TeleworkRecruiting.com to learn more about services for job seekers and employers of telecommuting workers.

Hosting Connecticut is a website development company based in Windsor, Connecticut. They put all the pieces of online business together: domain registration, web site design, hosting, e-commerce, credit card acceptance, statistic analysis, marketing and more. Hosting Connecticut streamlines the process so all these necessities are available in one place, saving their clients both time and money. For more information, please go to www.HostingCT.com or call 860-683-4201.
   Return