Hosting Connecticut Launches New Website for the Windsor Food and Fuel Bank

Oct

19

2015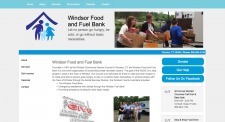 Hosting Connecticut announces the launch of a new, responsive website for the Windsor Food and Fuel Bank, a Windsor non-profit organization at WindsorFoodBank.org

According to Jane Garibay, President of the Windsor Food and Fuel Bank, "The website was due for an overhaul. We had a content management system but the content sprawl had gotten out of control." Hosting Connecticut created a contemporary design that better reflects the professionalism of the organization and allows for easy access to the site on mobile devices.

Hosting Connecticut's CEO, Paula Pierce, says, "The new responsive website provides a great user experience on mobile devices, and makes it easy for the public to donate online." The Windsor Food Bank accepts donations online to support their mission of letting no person go hungry, be cold, or without basic necessities. "Teaming up with Hosting Connecticut, with Paula Pierce as our project manager, made the entire process very easy. The project stayed on time and on budget," said Garibay.

Visit the Windsor Food and Fuel Bank online at http://WindsorFoodBank.org, or call them at (860) 683-4199 to learn more about the non-profit organization's programs.

Hosting Connecticut is a website development company based in Windsor, Connecticut. They put all the pieces of online business together: domain registration, web site design, hosting, e-commerce, credit card acceptance, statistic analysis, marketing and more. Hosting Connecticut streamlines the process so all these necessities are available in one place, saving their clients both time and money. For more information, please go to www.HostingCT.com or call 860-683-4201.
   Return