Hosting Connecticut Launches New Website for Grimshaw Tree Service

Jan

11

2016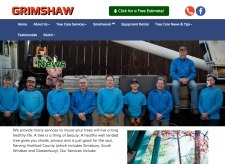 Hosting Connecticut LLC announces the launch of a new, responsive website for Grimshaw Tree Service, a Connecticut tree care services company. Based in Windsor, Connecticut, Grimshaw is a family owned business established in1968. The company provides a multitude of services from mulch to hazardous tree removal.

According to owner, Fred Grimshaw, "Hosting Connecticut's wealth of knowledge, experience and dedication is second to none." It was time to build a new mobile-friendly site with added functionality for 2016. Hosting Connecticut's CEO, Paula Pierce, says, "The new responsive website, in addition to providing a great user experience on mobile devices, added new functionality and content, including new Tree Care Tips and Myths. We have enjoyed working with Fred and Jane Grimshaw, and are always seeking ways to make their site ever more user-friendly and functional."

Jane added, "Teaming up with Hosting Connecticut has placed us first in web searches, allowing us to be the website of choice for buyers of tree care and removal services. The entire process of transforming our website into its new responsive presence was made so easy by Hosting Connecticut, with Paula Pierce personally overseeing every aspect of the project."

Pierce added, "Prospective customers must be able to easily find the website, and that is where our SEO (search engine optimization) skills come in. If you do a Google search for "tree removal", there are 245,000,000 search results, but Grimshaw is on the first page of the search results, for both local and standard organic results."

Visit Grimshaw online at http://GrimshawTreeCo.com, or call them at (860) 688-1603 to learn more about their services.

Hosting Connecticut is a website development company based in Windsor, Connecticut that puts all the pieces of online business together from domain registration to online marketing. Hosting Connecticut streamlines the process, saving small businesses time and money. For more information, please go to www.HostingCT.com or call 860-683-4201.
   Return