Hosting Connecticut Redesigns Website for SJN Landscaping

Mar

21

2016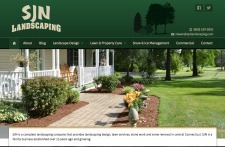 Hosting Connecticut announces the launch of a newly redesigned, responsive website for SJN Landscaping, a family business established over 15 years ago. SJN Landscaping is a complete landscaping company that provides landscaping design, lawn services, stone work and snow removal in central Connecticut.

Second generation owner and operator, Shawn Nelson contacted Hosting Connecticut, LLC to increase SJN's online presence by adding a blog and social media links to keep present and prospective customers apprised of new projects and capabilities. A content management system and responsive layout were used to create a mobile-friendly website that is easy to update.

According to Nelson, "Our new content management system makes in-house updates to our website very simple. And the addition of social media links has increased our exposure to new clients."

Hosting Connecticut's CEO, Paula Pierce, says, "The new responsive website, in addition to providing a great user experience on mobile devices, reaches prospective clients through many avenues including a blog and social media. We have enjoyed working with Shawn and his team to increase the functionality of the SJN website."

Visit SJN Landscaping online at http://SJNLandscaping.com, or call them at (860)
539-5855 to learn more about their services.

Hosting Connecticut is a website development company based in Windsor, Connecticut that puts all the pieces of online business together from domain registration to online marketing. Hosting Connecticut streamlines the process, saving small businesses time and money. For more information, please go to www.HostingCT.com or call 860-683-4201.
   Return