Technophobes Have One More Way To Get Questions Answered

Mar

19

2012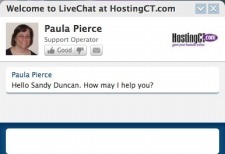 Technophobes now have one more way to get their questions answered. Hosting Connecticut LLC, a Windsor, Connecticut website design and hosting business, has added a Live Chat feature to their website so clients and anyone with questions about email, websites, hosting, etc can contact customer support quickly and easily. "Customer service has been a mainstay of our business. Everyone deserves a quick answer when they need help and live chat is the best way to get them the answers they need quickly," says owner, Paula Pierce.

"The most common technical questions are about choosing a hosting package and setting up email, but we handle lots of questions about search engine optimization and other advanced topics," says Support Manager, Cristi White. It seems that live chat isn't just for newbies.

Online chatting is just one of many ways that online companies provide support to their clients. Other common methods such as the phone and email may be more familiar, but chatting is the best way to get an answer, especially when you can't or don't want to wait for an email reply. Click the "Chat Now" button at the bottom right corner of any of page of the HostingCT.com website to start a chat session.

For more information about Hosting Connecticut, LLC, go to www.HostingCT.com or call 860-683-4201.
   Return