Zuka Catering Rebrands and Upgrades Their Restaurant Online

Oct

28

2022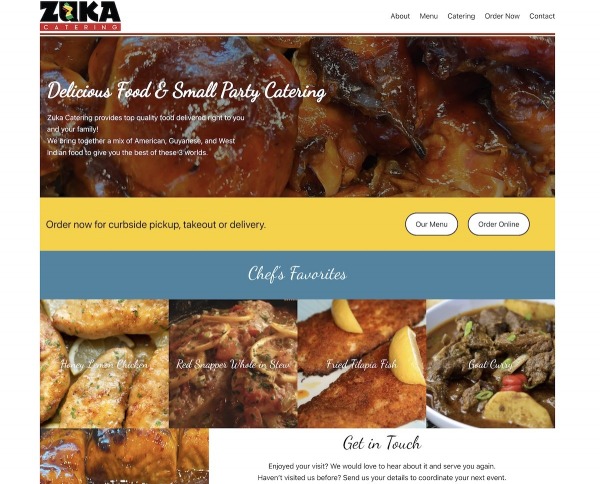 Hosting Connecticut LLC is proud to launch the newly redeveloped Zuka Catering website and online presence. Zuka Catering of Manchester, Connecticut was approved by Capital Region Council of Governments (CRCOG) for a technical assistance grant. Performed by Hosting Connecticut, this grant provides digital services to help small businesses improve their digital footprint.
Zuka is a family-owned restaurant that brings together three world cuisines. They fuse dishes from Guyana, West Indies, and America to create an explosion of flavor for people in and around central Connecticut out of their Manchester location.
Coretta London, owner of Zuka Catering, says the restaurant was built on the legacy of her mother's cooking in Guyana. She started with just a small food stand in front of their home. The community loved it so much they knew they had a hit. Eventually, the family decided to bring their specialty meals to America. Now Zuka Catering delights customers throughout central Connecticut with their mouth-watering dishes.
When the team at Hosting Connecticut met with Coretta, owner Paula Pierce stressed the need to update the restaurant's online presence with a contemporary logo and website that would be more visually appealing and easier for people to find online. Zuka Catering needed a better way to showcase their menu, gain more online orders and increase the day-to-day restaurant business and catering jobs.
With the new website, customers can now create a catering order online and include any preferences that they may have for events large or small.
"We are so grateful to have received the grant from CRCOG," says Coretta. "Since we started working with Paula and her team, we've seen so many positive changes. We are really excited to see more growth."
Hosting Connecticut worked with Zuka Catering to develop an SEO plan that will increase their search engine ranking and offer creative social media and email newsletter content. "Coretta is great to work with," says Pierce. "She has such passion for her traditional and fusion recipes, I really wanted to help her spread the word about her amazing dishes. More people need to try Guyanese food. It's delicious!"
You can find Zuka Catering at 194 Buckland Hill Drive in Manchester, Connecticut, online at zuka-catering.com or contact them at (860) 502-2275. They are open seven days a week from 10:00 am to 7:00 pm.
Hosting Connecticut is a website development and digital marketing company based in Windsor, Connecticut that streamlines digital business, saving small businesses and organizations much needed time and money. For more information, please go to www.HostingCT.com or call 860-683-4201.
   Return