6 Tips for Better Business Email Open Rates

Jul

15

2019
Categories: Email Marketing
Email campaigns are all about delivering to readers a positive experience that deepens their connection to your Brand.
When is the last time you've studied your Email Open Rates and defined which campaigns were most successful?
If you've noticed your Open Rates have been declining or they're hit and miss …
A few Tips to remember:
1) Enhance your "From Name"
Send from a "Person" – not a Brand.
If the Sender/From field contains an individual's name, and becomes recognizable to the recipient - those Emails become personal and are more likely to be opened rather than flagged to a spam folder.
Use a name your clients, customers and contacts will know – could be a personal name, the name of your company or a combination of both.
The "From" Email address isn't the same as the "From Name".
Don't use "tedjones@abcplumbing.com" as the sender name. rather use "Ted at ABC Plumbing"
The Sender Name/From Name is changeable within your Email service provider.
Example: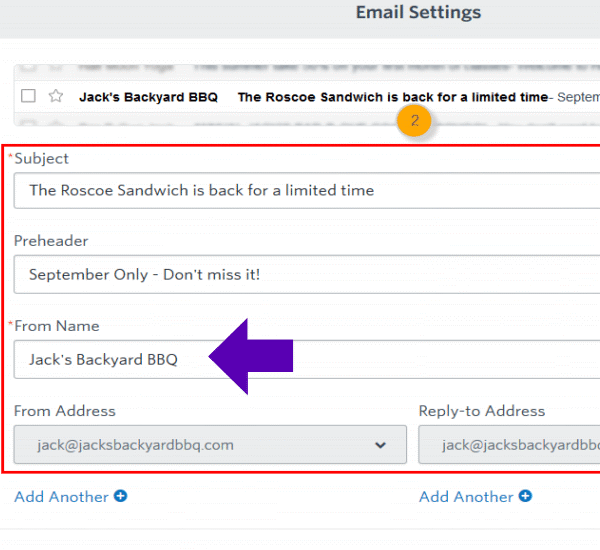 2) Impressive Subject Line
Boring, generic Subject Lines don't get opened.
If the Subject line doesn't illicit curiosity or a benefit to the reader, then it may go unopened.
Non motivating Subject Lines such as "July Newsletter" or "Latest News from (your Brand)" probably won't inspire anyone to open that Email. They might just think same-o, same-o.
A Question.

Phrase to Prompt Action.

Elude To a List.

Deadline. Sale. New Offer. Time Sensitive. Etc.
3) Provoke Email Replies
Asking for feedback translates to readers you care what they think. You'll gather valuable insight into your target market as a result. Make it easy for people to send a reply, and if questions come in be sure to answer them promptly.
4) Say Thank You
Acknowledging your list subscribers with a sincere "Thank you" goes a long way in developing a deeper bond with your readers, customers and potential clients. Add a simple Thank You within each Email issue.
5) Offer an Extra
If you already offer something free or regular discounts, every once in a while include just a little something "Extra" on top of everything else to show how much you appreciate subscription to your list.
6) Refresh What You Do
Info in, Info out. People don't remember everything.
If you sell products, remind people of all the perks associated from shopping at your website such as:
Free Gift Wrap.

Free Personal Enclosure Card.

Free Shipping Over XX Amount.

Etc. Etc.
If you're a service business:
No Charge Quote.

First 30 Minutes of Service Free.

Referral Rewards.

Etc. Etc.
More to Explore:
Read more in-depth Strategies to Improve Your Email Open Rate from Constant Contact:
https://blogs.constantcontact.com/improve-email-open-rates/
Looking for a trusted automated Email campaign manager?
Take advantage of the free trial from Constant Contact. Learn more:
https://hostingct.com/marketing/types/list/emailmarketing/learnmore/
   Return