7 Quick Tips to Increase Your Instagram Followers

Aug

23

2021
Categories: Digital Marketing,Social Media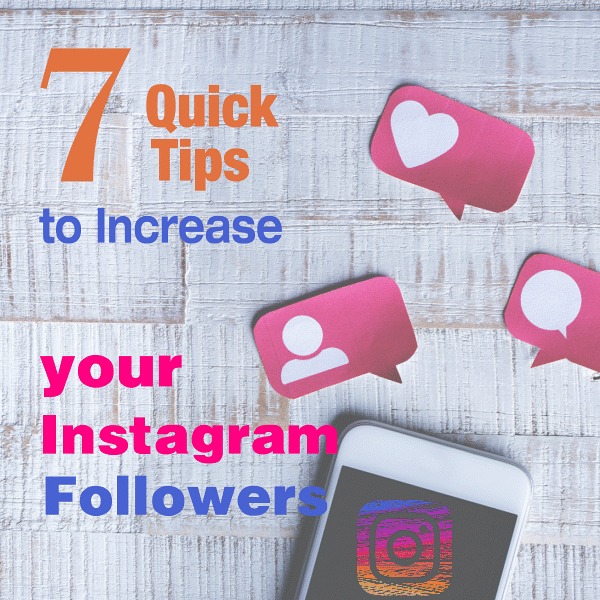 Instagram audience numbers continue to increase - offering a huge untapped opportunity for many businesses to expand their reach and Brand awareness.
Have you been using Instagram to maximize your social media following?
Did You Know?
Instagram Stories boasts over 500 million daily active users
With a dramatic reach for Brands, Instagram serves up an advertising audience of 1.16 billion people.
Instagram Quick Tips
Browse our quick tips for how to get more Instagram followers.
1) Clearly Define Goals
Decide exactly what your first goal is:
Increase Brand awareness.
Create deeper online presence.
Establish your business as an industry leader.
Gain more leads, sales, etc.
Sell products from Instagram content.
2) Get Recognized
Plan and develop what your unique style is going to be, apply to both your content, photos and video – then carry it throughout all of your social media platforms.
3) Image Quality Counts
Use lighting, filters and staging to get your photo and shoots to the highest quality possible.
4) Optimize Captions
Be creative with text. Captions should be informative, entertaining, relevant and compelling.
5) Choose Hashtags Wisely
Hashtags perk interest and prompt clicks. Choose relevant trending hashtags to motivate people to click, engage and follow your account.
6) Optimize Your Bio

Make it interesting.
Include your website URL.
Add emojis to translate personality and character.
Describe your business in just a few key words.
7) Create a Connection
Post video to Stories often. Many businesses post to Stories each day, as they help to create a personal connection with viewers and followers who'll see you as approachable and authentic.
More Quick Tips:
Set Up Shop to sell products.
Expand your audience with Instagram ads.
Use CTA's (call-to-action) in captions and content.
Post Customer product review and testimonials.
Run Contests to boost engagement and increase followers.
Seem Like a Lot?
Social media does take time and diligence to become effective and successful.
Could your business use a little extra help?
Popular Instagram Tools to Try
Foursixty, turns Instagram content into shoppable galleries
Instasize, photo editor plus video
Linktree, optimize Instagram traffic
Repost, share user-generated content
SocialRank, insights into follower demographics
   Return