Cheatsheet - Twitter Image Sizes as of November 2017

Dec

13

2017
Categories: Design,Social Media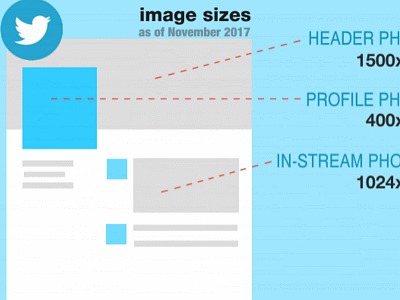 Awful images vs great images can be the difference between getting viewer attention, and being totally ignored.
Bringing attention to you and/or your brand is why you post on social media - so make your images work for you by making sure they're optimized using correct dimension and resolution criteria for each platform.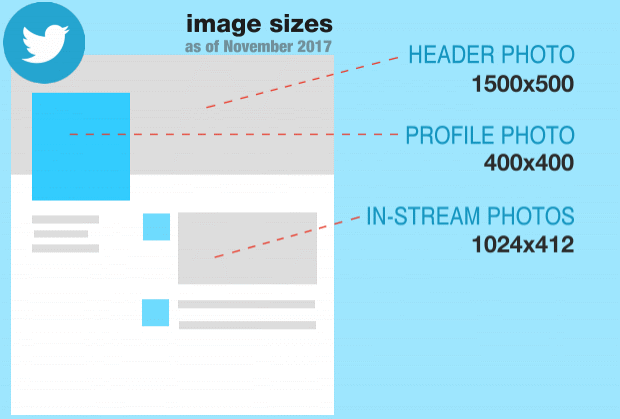 Header Photo Size – 1500x1500 pixels
Best upload size at 1500x500.
Upload an RGB JPG or GIF file less than 10 MB, for best results.
Upload as a PNG file if a logo or text is included in your image.
Profile Image Size – 400x400 pixels
Best upload size at 400x400, non equal square images will be cropped.
Displays at 200x200.
Displays as a cropped square.
Maximum file size 2 MB.
In-Stream Image Size – 440x220 pixels
Best upload size is 1024x512.
Twitter scales to 440x220.
Maximum visible dimension is 1024x512.
Minimum visible dimension is 440x220 (a 2:1 ratio).
Displays in-stream collapsed at 506x253.
Image file size maximum is 5 MB.
Animated GIF size maximum is 3 MB.
Any aspect between 2:1 and 1:1 is acceptable
File types: PNG, JPEG, or GIF are recommended.
Twitter Summary Card Image Size
Best upload size is 280x150, or larger.
Image file size maximum is 1 MB as JPG, PNG or GIF.
Title allows 70 characters maximum, description 200 characters maximum.
When to Post
According to Coschedule https://coschedule.com/blog/best-times-to-post-on-social-media/
Compiled data from 20 different "best times to post" studies for Twitter and found:
When to tweet:
To increase click-throughs and retweets:
5pm - 6pm
Noon
3pm
Specific days/times to tweet:
Wednesday at noon and from 5pm – 6pm
Monday through Friday at 12pm – 3pm and again at 5pm.
Sharing
Include "please retweet" at the beginning of all posts.
@mention all individuals and/or companies you include in your content.
Engage on a daily basis with your followers to cultivate followers.
Tweets with images are most noticed.
Useful Tools
Twitter Analytics, analytics.twitter.com/about
TweetReach, tweetreach.com
Tweriod, tweriod.com
Twitter Help Center:
https://support.twitter.com/
Twitter Image Help:
https://business.twitter.com/en/help/campaign-setup/advertiser-card-specifications.html
   Return