Dentistry Marketing Services to Make You Smile

Aug

1

2023
Categories: Digital Marketing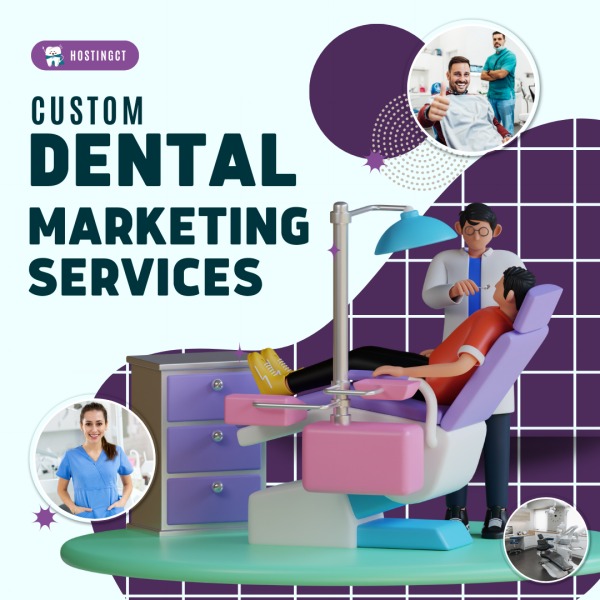 In the dynamic world of dentistry, attracting new patients and staying ahead of the competition requires more than just exceptional skills. To conquer the digital landscape and maximize your practice's potential, partnering with a cutting-edge marketing solution becomes indispensable. HostingCT, your trusted dentistry marketing partner, brings forth a suite of top-notch marketing services tailored to skyrocket your growth, secure a dominant online presence, and build lasting connections with patients. Join us as we explore the magical offerings of HostingCT and witness your dental practice flourish like never before!
1. The Digital Dental Oasis: Custom Dental Website Design
Your dental website is the gateway to your practice in the virtual realm, and its design must leave a lasting impression. HostingCT takes the art of dental website design creation to new heights, crafting responsive, secure, and visually appealing dental websites that exude empathy, professionalism, and trust. By incorporating essential features like webchat for consultation, secure digital patient forms, and an educational blog section, your website becomes a captivating digital representation of your dental office.
2. Ascending the Search Engine Throne: Dental SEO
Climbing the ladder of search engine rankings is vital to attracting more patients to your practice. HostingCT's dental SEO services ensure your website secures a spot on Google's coveted first page, reaping the rewards of increased traffic, leads, authority, and credibility. With a tailored dental SEO strategy, optimized campaigns, and an emphasis on your landing page, your dental practice will bask in long-lasting and measurable SEO results.
3. Google Business Profiling: The Path to Local Dominance
To thrive in the digital age, harnessing the power of Google Business Profile (formerly Google My Business) is crucial. HostingCT strategically places your dental practice on Google Maps, allowing potential patients to easily locate your office. The result of improved dental marketing services? A stronger connection between your website traffic and your physical location, leading to more footfalls and new patients.
4. Dental Social Media Marketing: Illuminating Your Online Presence
Shine brightly in the online realm with HostingCT's dental social media marketing solutions. By revamping your social media presence, you'll attract more leads in record time. With targeted branding and engaging content, your dental practice will enjoy increased referrals and greater patient engagement.
5. Email Marketing Enchantment: Nurturing Patient Connections
Forge stronger bonds with your patients through HostingCT's automated email marketing. Reduce no-shows and maintain a steady flow of patients with personalized appointment reminders. Request reviews from past patients, send informative newsletters, and witness heightened engagement, all while enhancing your practice's reputation.
6. Digital Marketing Wizardry: Targeted Growth for Your Practice
HostingCT's digital marketing for dental practices customizes strategies to direct potential patients straight to your dental office. Engaging content, including videos, infographics, press releases, and blogs, amplify your dental online marketing footprint, leading to faster results and reaching patients when it matters most.
In HostingCT, your dental practice finds a partner dedicated to unleashing the full potential of digital marketing. With tailor-made solutions for dentistry marketing, including website design, SEO, Google services, social media marketing, email outreach, and overall digital growth, you can confidently take your dental practice to soaring heights. Embrace the magic of HostingCT today and watch your practice shine like never before in the competitive world of dentistry.
   Return