Google's Mobile First Index Tips

Jun

29

2017
Categories: Marketing,Mobile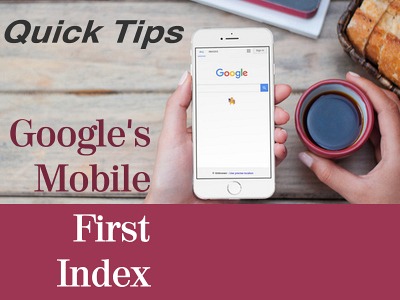 Since Google announced they'll be indexing mobile friendly sites first in their search results, here are a few tips of how to move your Blog or website nearer the top results.
Remove Pop-ups
The greater majority of Mobile users loathe pop-ups, even more so than desktop users. On desktops it's easier to click on the "X" to close the pop-up window than on Mobile. Mobile users become more frustrated because they have to Tap, and often find it difficult locating the Close icon.
Remove Flash
In many cases, for Mobile users Flash is not supported or allowed, so it's best to switch to a Flash alternative.
Compress Images
Large image files can slow down page load time. Reducing overall image size with optimization will lead to a better experience for the viewer, and a faster overall page load – an element that Google looks at.
Minimize Accidental Page Taps
Crowded page layouts and navigation scrolling issues promote accidental Taps on Mobile screens. Make the page layout simplistic with plenty of room between links and a large enough Font size for easy visibility.
Clean Code and Pages
The page source code is what determines the overall functionality of a website. Review yours to remove any doorway pages that cause redirects, and also remove any unneeded code not necessary to the page.
Titles and Descriptions
Rather than "writing a book", it's best to keep Descriptions and Titles short and sweet while being concise and to the point.
Separate Websites or Web Pages
If you have a separate dedicated Mobile version of your website or specific webpages, be sure to register them in the Google Search Console. Registering and verifying ensures indexing of those Mobile dedicated pages.
Include for Local
City and Zip Code and/or State in the URL.
City and Zip Code and/or State in the meta description.
City and Zip Code and/or State in the alt tags.
City and Zip Code and/or State in the title tag.
City and Zip Code and/or State in the H1 heading.
City and state in content.
Business Name, Phone, Address on All pages.
Separate Business Locations
For Separate business locations, the content should be in the same format, while the contact details change as applicable.
Migrate to Responsive
If your website is older, migrate to a Responsive design utilizing HTML5 and above, or WordPress.
   Return