How to Compress Image Files

Feb

11

2019
Categories: Design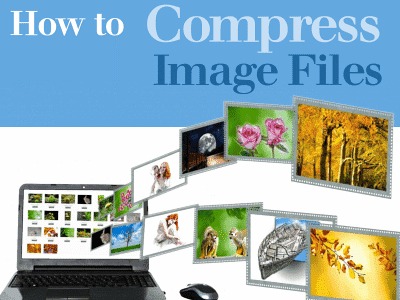 Reasons You Should Compress Your Image Files
Optimize Website:
Websites with uncompressed images most often have a longer load time. Slow page load speed affects SEO and search result placement. Site visitors will click away when they have to wait too long for a page to load.
Email Attachments:
Each email provider sets their own file size limits for email attachments. If an image file is too large you may not be able to send it, and at the very least transmission time can be very slow.
Storage Space:
Smaller image file sizes take up less space. Compressing images allows you to store more photos and graphic files on your phone, laptop and computer and reduces overall memory usage when trying to open them.
What to Use for Image Compression?
A free online tool is available at Website Planet, https://www.websiteplanet.com/webtools/imagecompressor/ that easily lets you decompress image files in PNG and JPG format, and then save them to your system or download to Dropbox or Google Drive.
Simple to use, just click on the circle that says "Drag your files here".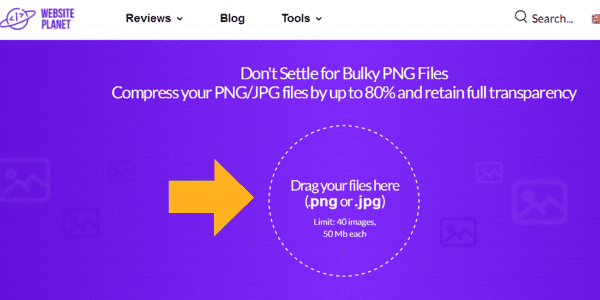 Select the image(s) you want to run through compression.
Your image is compressed, and you can view how much each image has been reduced.
Then either Download one image at a time or Download All to your system - or Save to Dropbox or Google Drive: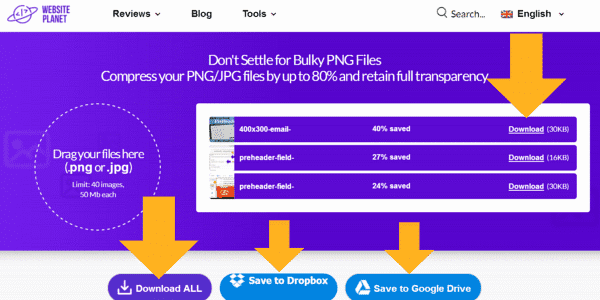 Easy peasy !!!
   Return