Is Your Business Using TikTok Yet?

Nov

8

2021
Categories: Digital Marketing,Social Media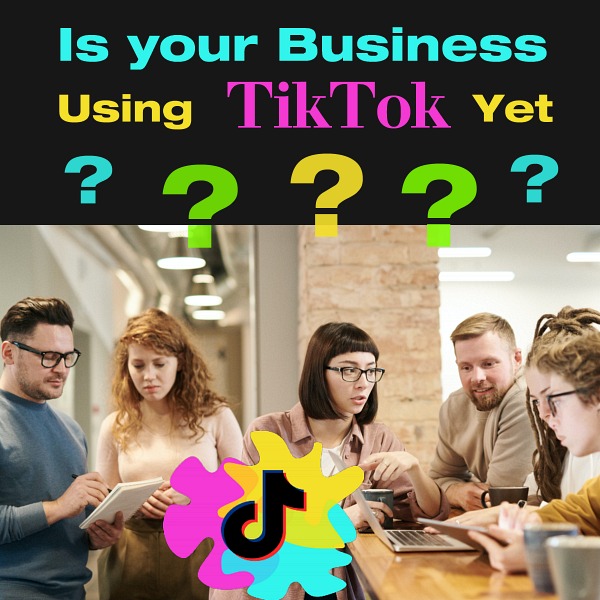 Did You Know?
TikTok is the 7th most used social network.


As of January, 2021, TikTok had over 689 million global active viewers.
TikTok boasts over 100 million monthly active USA viewers, with the majority being 18 to 29, and apx 20 percent in the 30-49 age group.
TikTok has become increasing popular with businesses wanting to expand exposure and increase engagement to a new audience base.
TikTok has a reputation of just being about challenges-gone-wrong, and non-stop-dancing. They've grown beyond those nuances into a successful platform for both business and personal brands.
TikTok is way more forgiving than other social media platforms, as their audience is looking for quirky videos and entertaining connections.

Businesses have the opportunity to:
Have fun and experiment with video.
Build a niche community.
Tap into a younger audience.
Make sales.
Drive visitors to their website.
If TikTok is a social platform you haven't thought about using to promote your business, let's look at a few tips to help you decide if it's a good fit for your brand.
Decide on Your Niche Topic
The TikTok algorithm works differently than Instagram and Facebook , which allows everyone to find your content. Consistently sticking with one niche topic gives you the flexibility to be super creative, and let's you focus on a particular aspect of your brand that certain viewers will be drawn to, and connect with.
Get Comfortable with the Platform
Create a personal profile first - then when you're ready to post, convert to a business profile.
Before posting anything, get comfortable with:
Creating video.
Navigating the app.
Experiment with the editing tools and effects.
Explore the 'Discovery' tab.
Search for and follow several #hashtags to see what other businesses are doing.
No Need to Be Perfect
TikTok isn't about perfection.
Show your personality.
Be authentic.
Don't take things too seriously.
Make content entertaining.
Make content educational.
Define Your TikTok Strategy
Consistent posting is key.
Plan content well in advance.
Decide on a realistic posting schedule.
Experiment with different post times.
Viral is Quick
Due to the incredible views TikTok receives on any given day, creating or sponsoring a challenge is a great method for personal and professional brands to reach millions of viewers in a very short span of time.
New challenges appear on the 'Discover' page, where millions of people can see it and join in. When a business pays to sponsor a #hashtag challenge, they receive a custom banner that displays across the Discover page. When viewers tap it, they're taken to videos that your business has created explaining and demonstrating the challenge.
Sponsoring a challenge is an opportunity for businesses to cross promote on their other social platforms resulting in more discovery and engagement across each platform.
Ways Non-profits Use TikTok
Due to the global popularity of TikTok, the platform presents a huge opportunity for non-profit organizations to increase visibility, and also receive donations directly through the app. The feature known as 'Donation Stickers' lets you coordinate a fundraiser within videos.
A few creative methods non-profits have been successful with for bringing in new sponsors, influencers, and donations include:
Social Challenges:
Establish your own #hashtag to draw new eyes to your cause.
Tell a Story:
Meet the challenge of telling a compelling story in a short amount of time to create connections and bring in donations.
Give a Glimpse:
Show people behind-the-scene footage of the work that goes into making your non-profit flourish and shine. Videos of this nature make your organization and mission more trustworthy and approachable.
Check out these non-profit accounts on TikTok that will give you an idea how to model your posts.
Search for and view:
#behindthescenes
#givebackchallenge
@oregonzoo
@onetreeplanted
@unitedway
Worth a Read
Tik Tok blog, Tips from small business owners.
TikTok History According to Wiki
If your business or non-profit needs an experienced team to successfully manage your social platforms, you're invited to review the social media services HostingCT.com offers.
   Return