Local SEO Challenges

Apr

6

2017
Categories: Marketing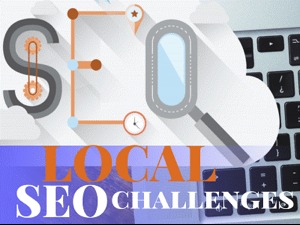 A major challenge for small businesses selling their products and/or services to localized target markets is getting their name on the first page of Google using organic methods. For those of you wanting to optimize your website for maximum exposure within Local Search results in the Google search engine, we have a few suggestions for you.
A Few Ways to Bump Up Your Game
Make Your Website Mobile Friendly
First off, it's essential your website be Mobile Friendly. People searching for Local services and products tend to search on the fly when they need something quickly, i.e. plumbing repair, flowers delivered, landscape services, car repair, or many times – just simple information.
Sometimes they'll know your business name, but need your phone number or perhaps the price on a product/service. Maybe they need to know when you open or close, they need directions, they want to know what your specials are this week, or how soon you can provide the service they need.
There's nothing more irritating than looking for specific information about a Local business on a Mobile platform, and

A) Not finding a website for them.
B) Having to look through multiple pages just to find a phone number, or hours of operation.
C) Are unable to read the website because the text is so small, and not adjustable.

AMP Will Make Your Site Load Faster
AMP stands for Accelerated Mobile Pages. Google likes pages that load lightening quick. In February 2016, Google introduced AMP listings into their mobile search results. Incorporating AMP HTML, makes your site more Mobile friendly and more likely for Google to prioritize your site in Local searches.
Key Attributes about Google's AMP (which can mean a boost in rankings, traffic and conversions):
- AMP-associated content loads faster on mobile devices
- AMP-associated content receives ranking priority from Google
- AMP-associated content gets caching infrastructure from Google to further speed content delivery
AMP first and foremost, improves the Mobile users search experience in terms of site speed. With a typical user only waiting about three seconds before clicking the back button on a slow loading site, AMP significantly improves a sites content delivery by serving up only the most vital content, while simplifying cumbersome HTML, Javascript and CSS. While AMP is not considered a singular ranking factor, implementation of AMP does affect clicks, user experience and impressions - which in turn affects SEO.
AMP Tutorial on the AMP project website.
https://www.ampproject.org/docs/get_started/create
Wordpress Plugins for AMP:
AMP, https://wordpress.org/plugins/amp/
AMP for WP – Accelerated Mobile Pages, https://wordpress.org/plugins/accelerated-mobile-pages/
Better AMP, https://wordpress.org/plugins/better-amp/
Glue for Yoast SEO & AMP, https://wordpress.org/plugins/glue-for-yoast-seo-amp/
Implement Structured Data
Structured data is a method for search engines to read content from your site coding. Search results with Rich Snippets can assist your site in ranking higher on a Mobile device because photos, video and reviews will display next to your content, in turn making your listing stand out just a little bit more to the viewer. Rich Snippets draw from dedicated code, which needs to be added to your website. Learn more about Structured Data and Rich Snippets at Schema.org http://schema.org/.
Monitor Your Online Reviews
When a Local search is performed, Google displays a sidebar with what they consider to be, the top three nearby locations – known as "the Local 3-pack". This area used to be a Local 7-pack but with the increase in Mobile users, seven listings were just too much information to display comfortably on a smartphone, so the listings were reduced to three. This Local pack area continues to exhibit various testing from Google and the exact information appearing may differ from month to month.
The Local 3-pack is a desirable spot and results are in a rotation. Google controls who is placed in this area by factors which we can't manipulate directly. One factor is the searcher's physical location. Your business rank can change or not even show at all if there are other businesses a few blocks closer to where the searcher is, at the time they perform the search.
One method that appears to influence the Local 3-pack is to take advantage of online reviews. Gathering positive reviews is important because when Google lists your business website, they look at sites such as Yellow Pages, TripAdvisor, Yelp and other highly ranked directories. Genuine, positive reviews will help you get into the Local 3-pack.
Monitor your business reviews for negative comments. While you won't please everyone all of the time – it's to your benefit to quickly address complaints by responding with the intent to diffuse the situation. Acknowledging the complaint and offering a solution helps build trust in your company.
Make Sure Your Google My Business Page is Complete and Accurate
While Google is no longer providing a direct link in search results to your Google My Business page, most of the information for your Local business card, including your address, phone number, images, street view, etc, is extracted from that page.
If you haven't already claimed your Google My Business listing page, you should do it now. Make sure it's filled out completely and accurately.
Website Must-Haves
Ensure your business Contact information is visible and consistent on all pages of your site.
Connect with potential customers online with Live Chat services that allow you to answer questions, address concerns, take orders and more.
Invest in an up-to-date website layout that boasts seamless navigation within a professional appearance, and an appealing color scheme that will translate as dependable and trustworthy.
Actively update your site on a regular basis. In order to remain relevant in search results, website maintenance is a never ending process and lets search engines know your business is still active.
Consistently feature keywords customers will use most when performing a search for your services and products.
Establish and post weekly to Google+ and social media accounts. Be sure to add social media to each page of your site.
Audit your Citations by entering your business name and zip code at https://moz.com/local (only supports USA based businesses) and review information returned that reflects how your business information appears on core directories such as Google, Facebook, Citysearch, Yelp and a few more. Determine if there are any inconsistencies with your NAP (business name, address, phone number). Correct any errors in the noted directories, as you want all information to be consistent.
Run your website URL through an online audit tool such as the MOZ On-Page Grader Tool (must be a member), https://moz.com/tools/onpage-grader or Hubspot Website Grader (free to use), https://website.grader.com/ that analyzes Performance, Mobile Compatibility, SEO and Security.
Make use of Google tools such as Analytics, Search Console, and Webmaster tools.
A final food for thought … business owners always want to know why they aren't ranking in search results higher than their competitors. The Time factor may or may not apply to you. When did you publish your website? When was your Google+ Local page established? When did you start building your business Citations?
Time is a Local search ranking factor. Authority is a Local search ranking factor. If your website is relatively new, it may take a while to climb up the search results ladder.
Ask yourself these questions:

Is your website the most up-to-date for your industry in your city?
Is fresh content added to your site on a regular basis?
Are you receiving positive reviews across a variety of platforms?
Are you promptly and proactively responding to negative reviews?
Do you regularly receiving high quality back links and social media mentions?
Are you participating in offline events to gain awareness of your business?
On another note – do a search on AOL.com http://AOL.com, the oldest sites appear first in the organic results.
   Return