Quick Facts: Online Local Marketing

Aug

17

2020
Categories: Marketing
When people search for your business by Name or Something Related to your business - can they find you?
If people perform an online search, and can't find your business - the first thing that pops into their head is: Does this business even exist?
Did You Know?
69% of people search for a local business at least one time per month.

(reference: BrightLocal's Local)
97% of consumers check a company's online presence before deciding to visit them.
56% of local retailers have not claimed their Google My Business listing.
People are looking for businesses online all the time, so your revenue loss can be exponential if you can't be found.
More Online Exposure = More Business for You
43% of small local Businesses are experiencing significant growth with online sales.

(reference: Insureon)
78% of local mobile searches result in an in-store purchase.
76% of people who search on smartphones visit a business within a day.
If You Were Asked . . .
If you were asked where most of your business comes from today, what would you say?
Many small businesses say "word of mouth".
When done correctly, online marketing provides more opportunities to extend the 'word of mouth' that's already so important to your business. Online marketing also allows you to strengthen existing relationships with current customers and build new ones.
Search Engine Importance
Every minute of every day people turn to search engines (primarily Google) to get more information about businesses they're investigating to fulfill what they need.
Here are some of the things that may show up on a search engine results page, or SERP, when someone searches for a business by name:
• Paid ads
• Organic (non-paid) search results
• Google My Business listing
• Social media accounts
• Reviews
• Info from other sites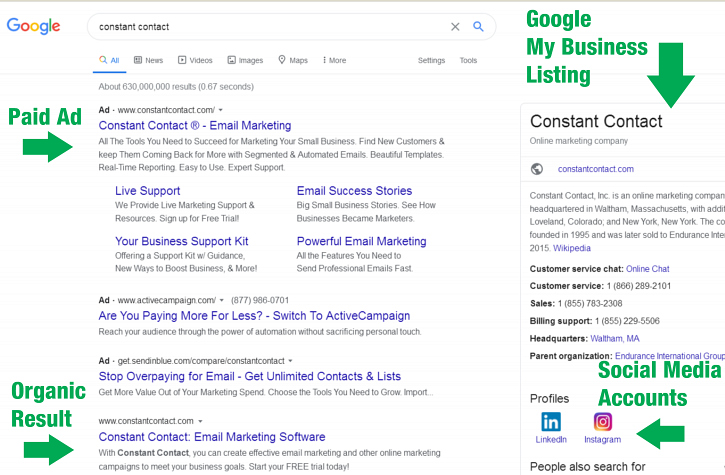 What Tools Should You Use to Build a Strong Foundation for Your Online Marketing Efforts?
Not an inclusive list, but most important are:
Mobile responsive and optimized website.
An Email automated

provider.
Primary Social media channel.
Up-to-date Business listings.
A way to easily create content.
Important to Remember

When local online Marketing efforts are designed specifically to draw local traffic to your business, the result is more customers for both your online and offline Brand.
Is it Time for You to Invest in a Local SEO Plan?
By creating and implementing a unique local SEO strategy, you'll help your business drive more local customers to your business and organization.
HostingCT.com can help you discover what may be left to do in order to complete your SEO strategy.
More to Explore:

Download the Quick Guide to Online Local Marketing for Small Businesses
Get the list of what you need to do in order to make sure your online marketing is also local marketing.
How Businesses Can Improve Their Local Marketing
   Return