Quick Tips for Balancing Business vs Personal on Social Media

Jul

1

2019
Categories: Social Media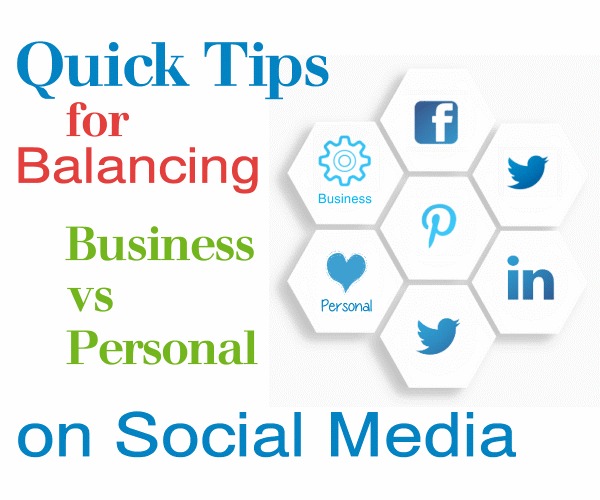 Most small business owners agree that marketing on Social Media benefits their business.
Most small business owners agree those Brands without a Social Media presence are missing opportunities to engage with potential customers and risk losing them to their competition.
Do those same small business owners understand how to balance their Personal and Business online appearance?
Do You?
Quick Tips for Making Your Business Look Good Online
On your Personal Social Media accounts you should:
Display and promote positive personal values.
Connect with followers about the history of your Brand.
Establish yourself as a leader while softly translating that to your industry.
Build a strong personal Brand, which will spill over to boosting your business's credibility.
Don't:
Use your Personal Social Media accounts to blatantly promote your business.
Post content that may be translated as offensive.
Get involved in public arguments on Social Media. Take those conversations offline.
Forget to conduct yourself in a professional manner.
On your Business Social Media accounts you should:
Be consistent with your message and visual branding.
Maintain boundaries and refrain from letting personal feelings dictate business posts.
Use Social Media as an avenue to connect with vendors, influencers as well as customers.
Daily monitor your Brand and what people are saying about your business by using a tool such as
Google Alerts: https://www.google.com/alerts or Mention: https://mention.com/en/
Respond daily to questions and/or comments.
Keep personal and business accounts separate, don't cross post.
Balance business promotion posts with human interest posts.
Don't:
Join every Social Media platform. Evaluate which will best serve your business communication goals.
Delete negative comments and reviews. Best to respond and make an offer to resolve the issue offline.
More to Explore:
Read expanded tips for Managing Your Online Appearance:
https://blogs.constantcontact.com/how-to-manage-your-personal-and-business-online-appearance/?cc=SPNewsletter
Try It Before You Commit
See how easy it is to manage your Email Marketing with a free trial from Constant Contact:
https://hostingct.com/marketing/types/list/emailmarketing/learnmore/
   Return