Tips for Making Your LinkedIn Business Page Better

Jun

18

2018
Categories: Marketing,Social Media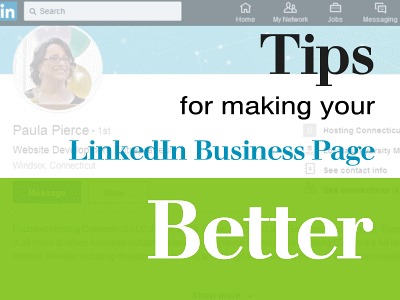 A LinkedIn Business page serves several purposes:
Allows a Business to tell their story.
Allows a Business to Educate others on their Services and Products.
Allows a Business to Individualize themselves against their Competitors.
Allows for Engagement with prospects, customers and employee candidates.
Allows a Business to Network and build Referral relationships for Sales Leads.
Allows a Business to Create a Public Image on an International scale.
Include these Elements on Your Business LinkedIn Page:
Research your Competitors and take the time to make notes of how their LinkedIn page translates. Differentiate yours so it glows compared to your Competitors.
Use fresh and unique images to reflect your Business, and change them out frequently.
Incorporate Video media on your page to showcase various aspects of your Business.
Create Showcase pages to feature different specialties of your Business.
Connect all of your LinkedIn Communities together using 'Featured Groups' to display Groups you manage or participate in.
Ask meaningful Questions to persuade followers to act on your updates.
Add SEO terms in the Description and Specialties section.
Know what's working and what's not by using Business Page Analytics and reviewing data tests for topics, formats and frequency.
Tips for a Great LinkedIn Company Page
Take sufficient time to compose an awesome company Profile. Research, and weave in keywords to bring visitors to your page, rather than going to a competitor page.
Survey your employees to see who is signed up on LinkedIn. For those already a LinkedIn member, ask them to link their (up-to-date) profiles to the Company Page. Invite them to become involved in Groups relevant to your industry and circulate content to them. For those non LinkedIn members, encourage them to register a profile. Ask them to share content in their personal profiles and tag your company page. All employees can share their experiences with Company events, milestones, values, etc.
Display LinkedIn follow icons on your business website, and make sure the site content is easily sharable with social share buttons.
Make it a weekly priority to become proactive in seeking out new connections that will organically lead to sales.
Post to LinkedIn on a regular schedule, perhaps Monday, Tuesday, Thursday. Whatever your schedule may be - post three times per week minimum. Evenly distribute posts designed to help you reach and connect with your target audience. Vary your posts to include images, articles and sprinkle videos in once in a while.
Write and share your expertise and knowledge on topics you're very familiar with, which will ultimately draw in new connections.
Create a Group of your own to serve as a platform establishing you and your business as a leader in your specific industry. Your Group will evolve into a beneficial group for potential customers.
Regularly follow the LinkedIn Marketing Blog, https://business.linkedin.com/marketing-solutions/blog
which contains an array of articles focusing on marketing strategy and efforts, updates, new releases and useful tools.
Utilize the Life Tab to share your company's culture, work environment, activities, charity work, community involvement, employee recognition, and employee perspective narratives. Integrate images and video.
Routinely analyze your company page metrics for engagement, followers, reach and visitors. Compare the analyzed data against your business goals and determine how you can improve your strategy. One goal to work toward is for your Business LinkedIn page to display high in the results for online searches in your industry.
Helpful LinkedIn areas you may want to review:
Create a LinkedIn Company Page
https://business.linkedin.com/marketing-solutions/company-pages
LinkedIn Company Pages Support and Help
https://www.linkedin.com/help/linkedin/answer/1561?lang=en
LinkedIn Company Pages FAQ
https://www.linkedin.com/help/linkedin/answer/1561?src=direct%2Fnone&veh=direct%2Fnone%7Cdirect%2Fnone
LinkedIn Life Tab Help
https://www.linkedin.com/help/linkedin/answer/71212/editing-the-life-tab-of-your-company-page?lang=en
LinkedIn Business Solutions
https://business.linkedin.com/
LinkedIn Sales Solutions
https://business.linkedin.com/sales-solutions
LinkedIn Marketing Solutions
https://business.linkedin.com/marketing-solutions
LinkedIn Marketing Resources
https://business.linkedin.com/marketing-solutions/marketing-strategy#all/topics/products/types/all
   Return