Tips on Using Images for a Higher Conversion Rate

May

17

2017
Categories: Design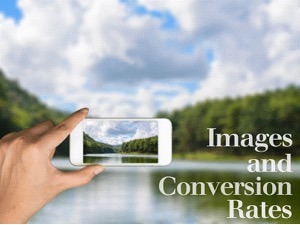 Conversion rates can be measured in a number of different ways on a website. Conversion rate goals differ from site to site, as it depends on what your website specific focus is.
Your conversion rate goal may be for:
signups to your newsletter
product sales
member registrations
ebook downloads
service inquiries
Any activity beyond simple page browsing is considered a conversion rate.
Using complimentary images along with your text can bring a webpage to life, and appeal to the perceived personalities of your shoppers. We've all heard "a picture is worth a thousand words" – and it is.
The challenge is to coordinate appropriate photos with page content that makes viewers want to become engaged and connect with you by either:
reading further
clicking the "buy" button
asking a question
downloading your ebook
signing up for your newsletter
joining your blog
ordering your service
Here are a few Tips to use when choosing photos for your website:
Tip 1 - Visually Superior
A good number of people Impulse shop. Maybe you've experienced being an Impulse Buyer yourself. We see something that connects with us immediately – it looks like something we absolutely "must have" at that moment – so we buy it. That's what many individuals do while browsing the Internet.
Photos with real people using your product can make people comfortable, inspire trust, and many times will nudge them into wanting your product right now.
Example:
If you look at a product photo selling on perhaps amazon, most often that product won't look too exciting. Maybe just a bland photo on a white background. If we took a photo of that same product, with real people using and experiencing it … the product would be more apt to connect with viewers.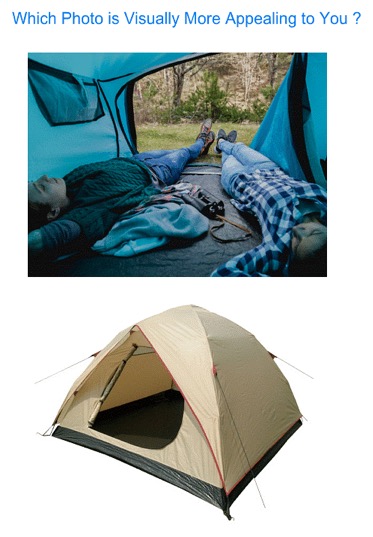 Tip 2 - Take a Chance
You're limited only by your creativity and imagination. Internet viewers are always looking for something new, and something different. After reviewing your online competition, make your website unique. Make it stand out through the images you use.
Tip 3 - Validation
Shopping on a website can be intimidating to new customers who haven't ordered from you before. If the first shopping experience is positive, then customers will return and place additional orders. Your challenge is to get that first-time customer to buy their first-item from your website.
We can't feel, smell or touch products for sale on the web, so people like to see other customer opinions about what they're about to buy. They want to feel safe in placing an order. They want to know the product works. They want to know it will be shipped promptly. They want to know your product stands up to your claims.
Take photos of people using your product. Even better, make a video of others using your product along with a positive experience narrative. Add customer comments and testimonial text next to your products and throughout your site – don't hide them away on a dedicated testimonial page.
The more viewers can connect with your product via sight and sound, the more apt they are to make a purchase.
Tip 4 - Emotions Rule
You should determine which emotions will help drive the purchase of your product or service, and create those feelings through your photos. Make sure your images convey joy, happiness, smiles, and/or contentment - whatever it takes to transcend a positive experience to potential customers.
Tip 5 - Consider a Mascot Icon
Many successful websites incorporate a mascot or character to represent their brand. Visually, that mascot can be manipulated across your site to build a bonding experience with viewers, solidify your marketing structure, and create a more memorable branding response.
Tip 6 - Details Matter
Product photos benefit from multiple views and angles. Rather than a single photo showing just one side of your product, display photos from every angle (front, back, sides) to show more detail.
Exhibit photos with a zoom or 360 degree view option has been proven to increase sales of clothing, jewelry, and merchandise with specific detail.
Customers will translate multiple product view options to making an informed purchase.
Tip 7 - Test Your Images
You can measure how well your images are performing by conducting Content Experiments within Google. Link to Google Analytics Information: https://support.google.com/analytics/answer/1745147
With Content Experiments, you can:
Compare how different web pages or app screens perform using a random sample of your users
Define what percentage of your users are included in the experiment
Choose which objective you'd like to test
Get updates by email about how your experiment is doing
If you have an existing website, change out your images one by one and test their performance. If you're in the process of building a new website, take the time to create a portfolio of photos that will bond with your potential customers.
   Return