Why You Should Use a Professional Email Address for Business

Dec

31

2018
Categories: Email Marketing
What is a Professional Email Address?
A Professional Email address is one that displays @YourBusinessName.
Back in the day, a custom domain was a sign of professionalism because they had to be purchased. A branded email address set people apart from those utilizing free places to build a website, and using generic email services. Today, email communication deploying a branded email address is the norm, and definitely expected.
While many people use free email service providers such as @yahoo.com, @gmail.com, @verizon.com, etc - they are not considered a professional reflection of a brand.
Before the @ is Just as Important
Branding your business credibility and identity doesn't stop at using your domain name to emulate a professional business image.
Using a professional email User Name is just as important as what comes after the "@" sign.
If you emailed respectable companies such as your local dentist or a national clothing chain, etc, and the email User Name they chose to respond with was something like:
hotstuff1992@caredentistry.com

speedyman4946@kidsclothing.com
You'd most likely stop to wonder how serious these people are about their business.
Which Translates Best?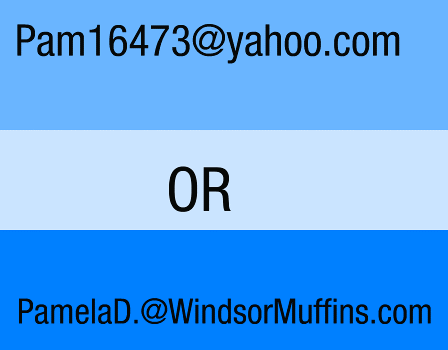 Pam16473@yahoo.com or PamelaD.@WindsorMuffins.com ?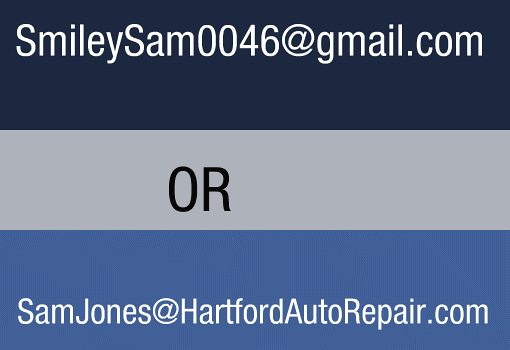 Sam0046@gmail.com or SamJones@HartfordAutoRepair.com ?
Unprofessional Business Email Elements:
User Name should not be a nickname or a secondary identity.
Don't include reference in a User Name relating to race, gender, religion or political affiliations.
For email accounts used on your website, it's proper for the User Names to perhaps include legal@, press@, technical@, customerservice@, sales@, etc. If you need/want to receive all incoming email from your website, it's best to go into your site Control Panel for each email account, and Forward them to your personal business email.
For the business email you use for responding to customers, website inquiries, etc - don't use generic User Names such as info@, support@, mail@, contact@, etc. Best to use a proper name, and add the specific department if applicable, such as:
BettyJohnson.sales@YourDomainName.com
BettyJ.sales@YouDomainName.com


B.Johnson.sales@YourDomainName.com


Betty.sales@YourDomainName.com

Benefits of Using a Professional Business Email
Readers will immediately recognize who the email is from, as your brand resonates through the email address.
Your domain name brands with your business, your website and social media.
People will easily remember a simple branded email address such as customerservice@YourDomainName.com - if they need help, have an issue, or just want to ask a quick question prior to placing an order.
Increases professional perception, and lends credibility to your marketing efforts.
Use an Email Signature
Add a signature to your email program to save time
Your signature should include your name, website, contact info and an optional promotional message
How Do You Set Up a Professional Email Address?
Once your domain is registered and website hosting is in place, the very next thing you should do is create branded email addresses within the Control Panel for each pertinent channel of communication within your company.
Hosting Connecticut, LLC offers:
Domain Name Registration
https://hostingct.com/domains/
Website and Email Hosting For Your Domain Name
https://hostingct.com/hosting/
You may want to take advantage of the Constant Contact free trial (no credit card required):
http://www.constantcontact.com/signup.jsp
Top 10 Features of Constant Contact:
https://community.constantcontact.com/t5/Conversations/The-Top-10-Features-of-Constant-Contact/td-p/227348
   Return