Elegant Interior Design Extends Online

Apr

11

2016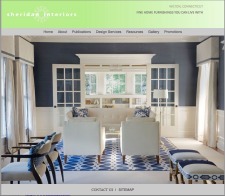 Sheridan Interiors, established in 1978, has been providing exceptional design services to the residents of Fairfield County for over thirty years. When the Wilton, Connecticut company realized that their website wasn't displaying their elegant, contemporary style well to clients using mobile devices, they knew they had to make a change.

Owner, Tom Sheridan, was concerned when he noticed how many visitors browsed sheridaninteriors.com using mobile devices. He contacted Hosting Connecticut LLC to redesign the website so it would look great and work well on whatever device was used to view it.

According to Sheridan, ?With so many people using their phones to look for interior design companies, it was time to build a mobile-friendly website so they could get a good feel for our skills and our eye for design."

Paula Pierce, owner of Hosting Connecticut says, ?The new responsive website provides visitors with an easy-to-use interface on smartphones as well as other devices so they can get a closeup view of Sheridan's work.? Tom added, ?Paula made the whole project run smoothly.?

Visit Sheridan Interiors online at http://SheridanInteriors.com, or call them at 203-762-2888 to learn more about their amazing design and resource library and their services in kitchen design, bathroom design, interiors and new construction.

Hosting Connecticut is a website development company based in Windsor, Connecticut that puts all the pieces of online business together from domain registration to online marketing. Hosting Connecticut streamlines the process, saving small businesses time and money. For more information, please go to www.HostingCT.com or call 860-683-4201.
   Return