11 Ways to Boost Your Business Blog

Nov

19

2018
Categories: Marketing,Social Media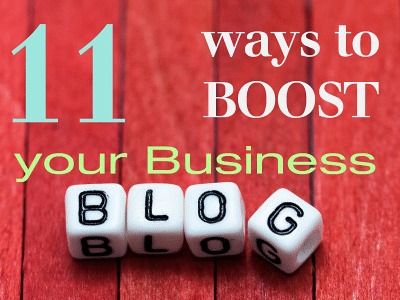 A Blog that's regularly updated with new content will compliment your business website and also:
Give insight into your business and what your expertise is.
Encourage people to visit every day to see what's new.
Attract New Buying Customers.
Increase more traffic to your website.
Ways to Boost Your Blog . . .
#1: Publish two or more content articles per week that might include:
How-To article with photos.
In-depth Reviews of Products you sell or Services you offer.
Industry specific Resource articles.
Video, demos or how-to (link to your YouTube channel).
#2: Visit and Comment on Other Blogs:
Regularly visiting authority Blogs will lend to an increase in passive traffic to your website. Determine the prominent Blogs within your niche and begin posting comments and interacting within those communities.
#3: Mention Others in Your Blog Posts
Grow your Blog by mentioning and linking to other Bloggers within articles. Just prior to publishing, email those you've mentioned to make them 'aware of the mention'. Most often the other Bloggers will reciprocate the mention share.
#4: Optimize Each Blog Article/Post
Optimize each Blog post for SEO (search engine optimization) by choosing one keyword and a searchable keyword phrase to use several times throughout the article. Include that keyword in your Meta Description and Title tag – easy to do within WordPress.
#5: Include Visuals
Catch the eye of readers and keep them interested by using:
Quotes with an Image
Infographic, Checklist, Tutorial
Humorous Image relevant to your niche
Video
Photo
Illustration
#6: Cross Promote to Your Email List
Dedicate a paragraph of your newsletter to include links to your recent Blog articles along with an image. This will encourage more visitors to the Blog area of your site – an area your audience may not be familiar with or visit often.
#7: Include Social Media
Make use of Facebook Live, Instagram Stories, and the Snap Story Feature to link back to your Blog.
#8: Author Feature Interviews
Reach out to businesses that compliment your niche and ask to interview the owner. Approach the article as a collaborative effort and ask the other business owner to feature your article on their website.
#9: Display Social Share Icons
Always include Social Share buttons at the beginning and end of each Blog article/publication to encourage social shares, resulting in additional visits to your website. Limit the graphic icon choices to three. Displaying 4, 5, 6, 7 choices has proved to overwhelm - resulting in no choice, therefore no share.
#10: Quora Participation
Become active on Quora using your knowledge and experience when answering questions or contributing information. Your Quora profile and signature line will prompt others to visit and share your site and Blog.
#11: Crosslink

Create relevant links between your Blog posts and your website content to increase internal linking, which benefits your site SEO.
If you don't currently include the methods listed above to boost your business Blog, try a couple at a time until you're able to incorporate all of them into your Blogging routine.
   Return