29 Days to a Better Website

Aug

3

2017
Categories: Design,Marketing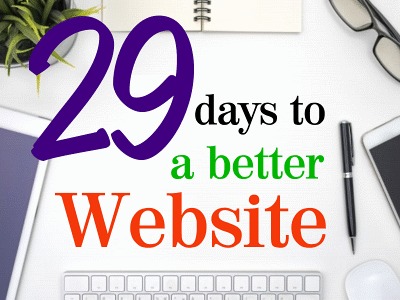 SEO is not a one time quick fix.
SEO starts when a website is being created.
SEO is a forever task of consistent monitoring.
Effective SEO is strategy refinement using proven best practices.
Below is an SEO task schedule for websites displaying lackluster search result performance. All may not be applicable to your situation, but utilize as many tasks as necessary to ensure the foundation of your site is SEO ready.
Day 1
Optimize Titles and Descriptions
Add page Titles to pages missing one.
Use keywords you want to rank in the search engine results for the Page Title.
Restrict Title to no more than 70 characters, Google stops at 70.
Limit Description to 175 characters, again Google usually cuts off after 175.
Include important keywords.
Include a call to action to entice a click to your site page.
Day 2
Review ALT Tag Attributes on All Images

Include an ALT text for each and every image/graphic/photo on each webpage.
Incorporate page target keywords.
ALT should describe what the image depicts and illustrates.

Day 3
Identify Broken Links
Review 404 errors.
Review navigation links and correct if needed.
Redirect broken URL's to appropriate URL's using a 301 redirect.
Contact outside webmasters to recode incorrect incoming links.
Day 4
Audit Redirect Links
Identify all redirect links on website.
Determine if any 302 (temporary) redirects are needed, if not, change to 301 (permanent) redirect codes.
Day 5
Review URL Structures and Standardized
Change to descriptive URL's, which are overall preferred.
Review click paths and tighten up to maximum four directory levels.
Directory needs to point to respective parent folders.
Implement 301 redirects from revised URLs to new URLs, whenever a change is made.
Day 6
Review URLS and Shorten if Needed
Limit URLs to 74 characters so they will be completely visible in search engine snippets.
Format URLs close as possible to the root domain.
Day 7
Link Internal Pages
Identify orphan pages.
Relevantly link them to other site pages, as search engine crawl bots move from link to link, and abort their crawl if a page is found with no link to another page on the site.
Delete links pointing to broken pages showing as 404 or 500 status.
Day 8
Analyze Anchor Text to Increase Relevance
Be sure the anchor text is relevant to the directive page content.
The more pages that point to a sub-page using the same keyword communicates to search engines the directive page is relevant for that keyword.
Day 9
Review Click Paths
Sub-pages should be reachable within 3-clicks, so shorten yours if necessary.
Implement a search box for visitor usability.
Day 10
Improve Site Accessibility
Make sure your website has a sitemap.xml file and that it's up-to-date.
Modify the sitemap when URLs are changed or content is edited.
Review sitemap to confirm it reflects the last modification date.
Ping or submit sitemap.xml file to Google and Bing.
Day 11
Tell Search Engines What to Crawl
Review the robots.txt file.
Revise to include only pages search engines should crawl.
Day 12
Perform Keyword Research
Use informational keywords (broad keywords) if the website focus is informational about a variety of topics.
Use transactional keywords (niche keywords) if the website focus is sales, or a specific niche.
Research tool options: Google Keyword Planner, Google Trends, Google Search, Ubersuggest.
Day 13
Review Website Navigation
Determine which pages are bouncing (high bounce rate), and fix.
Implement a breadcrumb navigation for a better site visitor experience.
Review navigation links and include anchor text.
Day 14
Check Site Load Speed
Check each page load time at Google PageSpeed.
Investigate cause of very slow pages.
Remove or optimize large image files, if necessary.
Move CSS and JavaScript files to external files if they're causing a slow page load.
Day 15
Mobile Optimization
Review website display on mobile devices.
Confirm each page is mobile accessible.
Confirm content adapts to the size of all devices.
Confirm the "viewport" meta tag is in place.
If mobile accessibility and display issues exist, rebuild and recode all.
Day 16
Duplicate Content Review
Analyze all website pages to determine if duplicate content exists.
Determine if website generates similar content by using a "/" at the end of the URL, and again without the "/" at the end of the URL.
Determine if website appears in search results with and without the www., http, https.
Determine if the exact same content appears in search engine results in varied formats such as in pdf or print versions.
Day 17
Remove Duplicate Content
On a duplicate content page, add a Canonical tag pointing to the original webpage.
Add a canonical tag on the original page that points to itself.
If identified duplicate content pages are not needed on the site, delete the page and update the sitemap.xml, redirect deleted URL with a 301 redirect code.
Day 18
Analyze Content Quality
Analyze each webpage frequency of terms in relation to pre-determined page target keyword(s).
Scan pages for bad punctuation, misspelled text and paragraph format errors.
Day 19
Optimize Page Content
Weave the most important target keyword terms into each page's text.
Update the meta title and description to reflect changes.
Fix all typos, punctuation and formatting errors.
Day 20
Review and Revise Page Headlines with <H> Tags
Use only one <H1> tag per webpage.
Include the primary keyword of each page as the <H1>.
Arrange all headings in an upward order, H1, H2, H3, etc.
<H> tags are not to be used to format font size.
Headline text should be relatively short and void of unnecessary words.
Day 21
Craft New Content from Existing WebPages
Create informational graphics from boring convoluted text content.
Compose content sharing your insights, and experiences, as related to already existing page content.
Create a video of content already on the site, inject your expertise and opinions.
Add content using survey results and statistics that support existing content topics.
Day 22
Review Page Content Code Ratio
Low Content (text) to Code ratio equals sparse page content, which is poorly rated by search engines. Rule of thumb is the amount of text on a webpage should not be less than 25%. Increase text, decrease source coding by using CSS over HTML when possible.
Day 23
Expand Content
Add images/photos/graphics, videos, audio files, webinars, blog posts, etc, to new and/or existing pages.
Day 24
Optimize International Reach
Determine if site is being viewed Internationally.
A hreflang tag tells Google which language you're using on a specific webpage, so they can serve that result to users searching in that language.
Add the hreflang tag on each page if it also has a different language corresponding copy.
Link pages to available language versions.
Add the hreflang tag into the page <head>, add a separate tag for each language version and/or region.
Add the hreflang tag to the sitemap.xml file.
Day 25
Optimize Site for Local Search
Review all directories site is listed in to confirm the exact same information is listed in each.
Register site in Google My Business with images.
If location is pertinent to the website, analyze webpage content to confirm it relates to the specific locality, then incorporate city, county, state, and/or region, along with product or service into <H1> tags, titles, and meta descriptions, ALT tags, and URL names.
Confirm NAP (name, address, phone number) is in the HTML of the site.
Register site in Local and business directories.
Day 26
Evaluate Social Media Network Presence
Establish accounts on social media sites as applicable.
Create a consistent social media posting schedule that includes photos/images as well as text.
Only post content of interest to your focus group.
Preview posts before submitting.
Day 27
Increase Site Visitor Interaction
Review existing Blog, or add one to site.
Blog posts should end with an open question, to encourage reader participation.
Share Blog posts on social media and encourage readers to comment.
Place a Poll on site, and change out each month.
Place a Survey on site, post results when it's ended.
Add a Live Chat for inquiries.
Add social media Share options.
Add a Subscription option for newsletters, new product alerts, sales, events, etc.
Turn off auto-play on all videos, they're annoying and push away the majority of site visitors.
Day 28
Register Site at Google Search Console and Google Analytics
Google Search Console:
Upload the sitemap.xml file.
Review common keyword reports, revise and optimize meta data.
Analyze click-thru ratio to webpages.
Check crawl errors and resolve.
Run Fetch as Google option to send newly optimized webpages.
Google Analytics:
Review daily performance reports, page views, bounce rates, time on page.
Configure Email notifications for major changes.
Compare report data each month.
Day 29
Review Your Competitors
Identify site's top ranked competitors.
Analyze each competitors citation profile, meta data, website content and keywords.
Evaluate their website traffic, digital advertising and link reach.
Investigate their marketing methods, review their social media activity.
Determine if competitor product/service lineup compares to yours in cost and quality.
Compile a list of each competitor's weakness.
Make a plan to implement changes into your website to outperform direct competitors.
Well - that's the 29 Days for a better website!
Definitely a lot of detail and work involved with SEO.
Do it yourself, or hand off to a Professional experienced with best SEO practices. They'll expertly process and monitor these tasks for you on a monthly basis.
   Return