6 Google Marketing Tools for Business Owners

Feb

8

2021
Categories: Marketing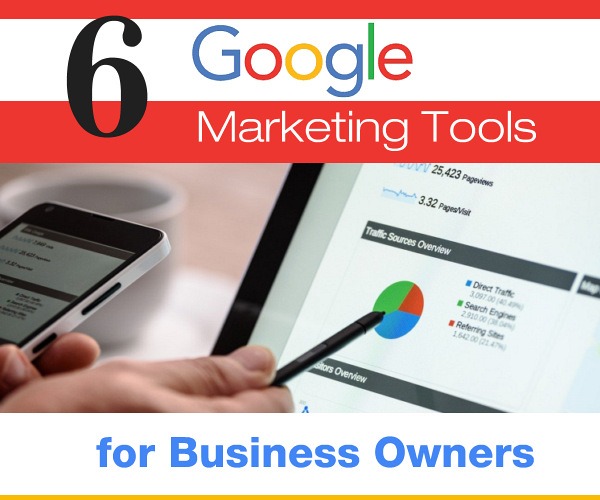 Google is not just the most used search engine browser in the world, but has worked behind the scene for years developing online tools to help businesses and website owners.
The most useful Google business online tools are free, while some are paid services.
Google tools help:
Improve SEO (search engine optimization).
Improve website function and usability.
Improve company and Brand visibility.
Let's look at the top Google marketing tools businesses use:
Google Business Profile (formerly Google My Business)
Generates listings that appear when people perform searches through Google Search and Google Maps.
Allows you to manage how your business displays on Google Search and Maps.
Greatly improves search visibility, especially for 'Local' and 'Near Me' searches.
Get started with Google Business Profile (formerly Google My Business)
Google Analytics
Tracks and reports all website traffic to include:
Entry and exit pages.
Time spent on each page.
Assists with understanding why visitors are bouncing off your site and pages.
Provides demographic data including age, device, gender, location and interests.
Allows you to create goals and conversion tracking.
Ability to share analytic data with Google Docs, Sites or Spreadsheets.
Get Started with Google Analytics
Google Analytics for Beginners
Google Search Console
Monitors your website presence in the Google search results.
Checks indexing status, so you can optimize if needed.
Helps identify site issues that require fixing.
Get started with Google Search Console
Google Ads
The largest and most popular internet PPC (pay-per-click) ad network.
Especially effective for Local and specialized businesses.
Create straight-forward line ads with relevant keywords.
Set a daily budget, starting as low as $1.00 per day for a PPC ad campaign.
Contact HostingCT.com to assist setting up your Google Ad campaign.
Get started with Google Ads on your own.
Google Tag Manager
Manages preset and custom javascript tracking codes (also known as Tags) on a website.
Google codes most business sites use Google Tags Manager for include:
Google Analytics
Google Ads (including the conversion and remarketing tags)
Google Consumer Surveys
Google Optimize
Facebook Pixel
Pinterest
Get started with Google Tag Manager
Supported Tags within Google Tag Manager
Facebook Pixel GTM integration
Google Alerts
Receive auto-email alerts in real-time, daily or weekly for search terms or text you configure.
Business can:
Monitor mentions of their Brand, whether positive or negative.
Follow industry trends.
Track popular search queries.
Grasp seasonal product trends.
Review relevant product categories relating to product offered.
Analyze related queries and related topics for keyword research.
Keep abreast of competitor activity.
Get started with Google Trends
Additional Popular Google Business Tools Include:
Get Help With Google
We offer a number of packages for your local search engine optimization needs.
   Return