Clever Email Marketing Techniques

May

7

2018
Categories: Email Marketing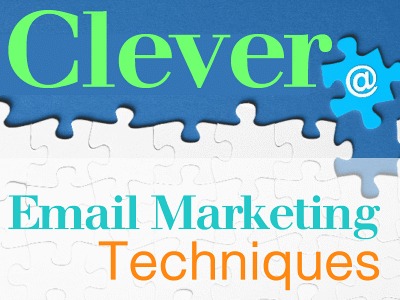 It's quite unbelievable just how many Emails are sent on a daily basis.
269 billion per day in 2017.
According to statistical data gathered and filtered by the Radicati Group in 2017, they estimated the number of Emails sent per day averaged over 269 billion, and would continue to escalate at an average rate of 4.4% over the next four years.
Before we get into techniques you can use to boost your Email newsletter open and conversion rates, let's reflect on a few statistics:
89% marketers said that email was their primary channel for lead generation. (Mailigen)
78% of consumers unsubscribe from emails because brands were sending too many emails. (Hubspot)
Email list segmentation and personalized emailing were the most effective email strategies in 2017. (DMA)
Marketers have witnessed an increase of 760% in email revenue from segmented campaigns. (Campaign Monitor)
Transactional or triggered emails have 8x more opens and substantially greater revenue than regular bulk emails. (Experian)
Triggered email campaigns have an open rate of 45.70%, a click-through rate of 10.75% and click-to-open rate of 23.52%. The unsubscribe rate and spam rate are as low as 0.58% and 0.06% respectively. (GetResponse)
Welcome emails have on average 4 times the open rate and 5 times the click-through rate of a standard email marketing campaign. (InboxArmy)
Emails that include some sort of graphics have a higher open rate (26.89%) and higher click-through rate (4.36%) than that of text-based emails. (GetResponse)
Personalized subject lines lift open rates by 29.3%. (MarketingSherpa)
Social sharing buttons in email increase click-through rates by 158%. (Sarv.com)
Email Marketing is King Over Other Platforms
Email has proven to be the most cost-effective method to promote your products, communicate with customers, and reach business goals.
Email Marketing has proven to out perform PPC, SEO and content marketing – it's more important than ever to develop an effective Email Marketing strategy for you and your business.
While there are standard 'Email Marketing Best Practices (and you do need to know what they are to become knowledgeable about the basics) you also have to think outside the box and cultivate your own sense of uniqueness. You want customers / clients to gravitate back to you, rather than jump over to the other side and buy from someone else.
Here are a Few Techniques to Use in Your Email Newsletters
1) Use awesome Subject lines and Preview text. Make sure the Preview text relates to the Subject line
Example:

If the Subject line is a command, the Preview text should be logically relatable to the command.
If your Subject line is asking a question, the Preview text needs to be the answer.
2) Simplicity works when trying to sell, so keep the initial description brief with a clear call-to-action (CTA).
For those with a peaked interest and want to learn more, follow the CTA with a more detailed, but simple explanation of how your deal or sale works.
3) Trigger Emails by events.
Might be anniversaries, birthdays, long term membership, long term subscribers, subscribers named John, subscribers named Sue - - segment your list by any number of ways to send Emails extending appreciation.
Example:
Reward long term subscribers to your list with a Special Occasion message, thanking them for being a subscriber. Extend an invitation asking if they'd like to earn the title of Brand Ambassador as a loyal subscriber – a title that would require them to share the link (included in your Email) with ten friends and family.
You stand to grow your Email list, plus you've shown appreciation to a log-term subscriber.
4) Bring Back inactive customers / clients by sending a fun, simple Email to Customers who haven't made a purchase in a while. Let them know they're important to you.
Send a subtle Email just to remind them of your Brand, and why you can be helpful to them. Include an incentive, perhaps a limited time discount coupon for those who come back.
5) Layout your Email newsletter in distinct sections, and stick to that layout with each issue.

Example:
Intro for general news and announcements. A section just for Tips and maybe the last section for Recipes or whatever is relevant to your business.

People will become comfortable with the flow of your newsletter and know where their favorite part is with each issue.
6) Give something away each month.
People will read and share your newsletter because they'll love to become involved in the giveaways.
7) Conduct fun Surveys.
People like to take surveys, so change out survey content weekly or monthly. Put the survey in the newsletter or a CTA for them to click to your website. After they submit their answers, take them to a landing page with your weekly special, or current sale.
8) Use quirky call to action text on your buttons.
Instead of 'Click Now' or 'Buy Now', create your lead-in text so the call-to action text is something the reader just can't resist clicking on.
9) If you can, include a 'Forward to a Friend' in the beginning of your newsletter, as well as at the bottom.
Example of sharing text:

If you've been loving this newsletter, please pass it forward to your friends and family so they can enjoy it too - they'll thank you for it.
10) Send a Personal level Email when people un-subscribe.
In your programmed Email that goes to those who un-subscribe, let them know that saying good-bye is never easy. Ask them to rethink their request for removal from the list. Request feedback as to why they've un-subscribed. It may be a reason that uncovers a flaw in your promotions.
11) Weed out and Drop stagnant subscribers.
It's a good idea to periodically purge your subscriber lists of those not opening your email lists Tag subscribers who aren't opening, and send a message saying you've noticed they haven't opened your Emails lately. Would they like to un-subscribe or do they prefer to remain connected. Provide an un-subscribe button.
12) There are holiday marketing opportunities throughout the year you can create marketing campaigns for, not just Christmas.
Create Emails relevant to your business offerings with a clear question in the Subject line, followed by another question in the preview text.
Example:
'Wait, when is Father's Day again?'
'Did I buy Dad a Present?
Use personal, visual images in your Email with motivating CTA button, and if the reader is interested, they can click on any one of your CTA's and be taken to a purchase page.
Quick Email Marketing Tips
Make sure your Emails are optimized for all device platforms.
Regularly offer incentives, coupons, discounts, and contests to motivate people to open your emails.
Double check to make sure subject lines are clear and communicate what your email is truly about.
Determine the best email sending frequency for your specific subscribers by determining their location and time zone.
Include content that's a mix of personable and promotion.
Utilize split testing to determine which email strategies work and which are unsuccessful.
Use your Emails to cultivate an ever growing brand loyal membership.
You may want to take advantage of the Constant Contact free trial (no credit card required):
http://www.constantcontact.com/signup.jsp
Top 10 Features of Constant Contact:
https://community.constantcontact.com/t5/Conversations/The-Top-10-Features-of-Constant-Contact/td-p/227348
   Return