Do You Have Your Fall Email Marketing Templates Ready?

Sep

2

2019
Categories: Email Marketing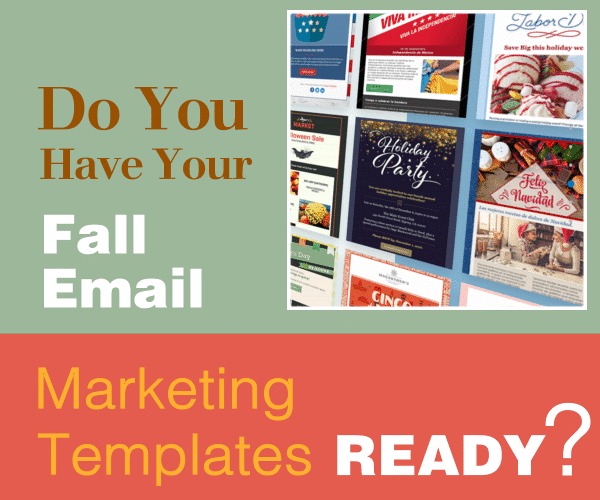 September and October are chock full of holidays you can take advantage of and send marketing Emails to your subscribers, while incorporating key sales and/or offers for your products/services.
Holiday inspired Email templates are easy to use if your automated Email provider provides them. Just choose a template, enter information and images in the content blocks and whalah - done!!!
While nationally recognized holidays are the norm - maybe this year, send marketing Emails with themed templates for non-mainstream holidays. You'll surprise your readers, probably put a smile on their face – and inspire them to place orders on that day.
A Few of the National Holidays in September are:
Labor Day > September 2 (always the first Monday in September)
Wildlife Day > September 4
Read a Book Day > September 6
Salami Day > September 7
Tailgating Day > September 7 (always first Saturday in September)
Grandparents Day > September 8 (always first Sunday after Labor Day)
Peanut Day > September 13
Greenpeace Day > September 15
IT Professionals Day > September 17 (always third Tuesday in September)
Ice Cream Cone Day > September 22
Autumn Equinox > September 23 (date changes annually)
Women's Health & Fitness Day > September 25 (always last Wednesday in September)
Good Neighbor Day > September 28
Coffee Day > September 29
View more September National and International Holidays:
https://nationaldaycalendar.com/september-overview/
A Few of the National Holidays in October are:
Techies Day > October 3
Golf Lover's Day > October 4
Do Something Nice Day > October 5
Child Health Day > October 7 (always first Monday in October)
Mental Health Day > October 10
Sausage Pizza Day > October 11
Columbus Day > October 14 (always second Monday in October)
October 16:
Department Store Day
Boss's Day
Support You Local Chamber of Commerce Day (always third Wednesday in October)
October 17:
Pasta Day
Get to Know Your Customers Day
Pumpkin Cheesecake Day > October 21
Nut Day > October 22
Make a Difference Day > October 27
Chocolate Day > October 28
October 31:
Caramel Apple Day
Knock-Knock Joke Day
Halloween
View more October National and International Holidays:
https://nationaldaycalendar.com/october-overview/
Choose holidays that will resonate with your audience (whether local or national) and be creative with your message and content.
Feature exclusive offers for anyone:
Buying a gift (product or service) on that particular holiday.
Booking services in advance during that week or month.
Who places an order online on a specific holiday date.
Create your holiday lead-in by tying into the holiday, such as:
In Celebration of National [enter holiday name here] we're [enter your offer here].
Example:
In Celebration of National "Make a Difference Day" were offering 15% off all Landscaping services booked by October 27th.
Example:
In Celebration of National "Wildlife Day" on September 4th, we'll donate 5% of every retail purchase to [enter the charity or organization name here].
Everyone Benefits
Whether you sell online only, online and in-store, sell products or services – everyone can benefit from Email marketing on well-known and little-known holidays using Email templates associated with those holidays.
Here's an example of a colorful, themed Email marketing template for National Boyfriends Day on October 3: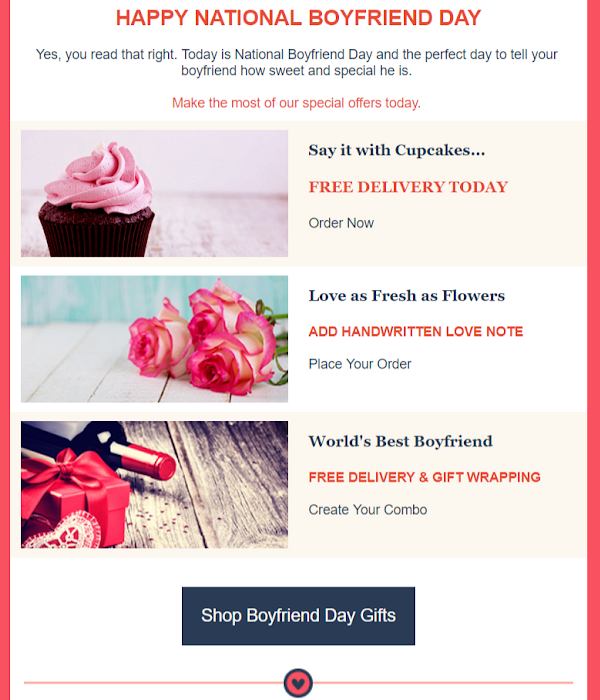 If you aren't offering any holiday specials during a particular month - send a simple holiday Email greeting to let your audience know you appreciate and value them. People connect with Brands that take the time and make the effort to keep communication open. Holiday greetings convey that effort.
If you don't currently utilize an Email automated program, or the program you've been using isn't giving you the results you expected … browse features and view beautiful, professional Email templates built for your message, offered at Constant Contact: https://www.constantcontact.com/email-templates
If you're Ready to do more Business with Email Marketing, consider a 60-day trial with Constant Contact (no credit card required) – learn more here:
https://hostingct.com/marketing/types/list/emailmarketing/learnmore/
   Return