How a Magic Landing Page is Like the Perfect Cheesecake

Dec

2

2019
Categories: Design,Email Marketing,Marketing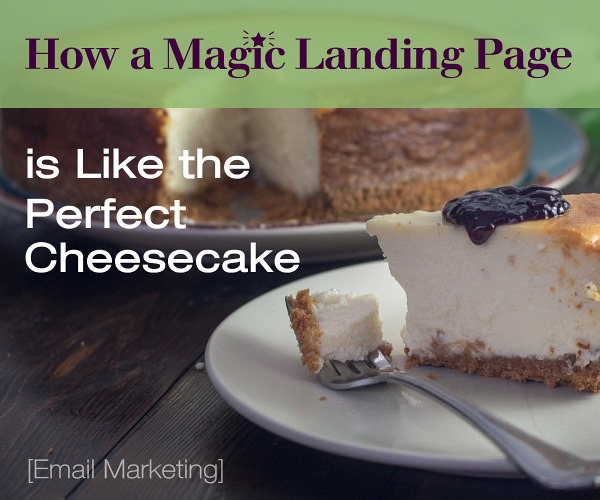 People Will Click for that First Bite!!!
While the term "Landing Page" gets thrown around a lot in online Marketing, not all that many people really understand what it means - much less how it differs from a website or homepage, or even why Landing Pages are necessary.
Many website owners have no idea what a Landing Page is, so if you're not familiar with the term, don't feel alone. At the very least - everyone needs a custom Landing Page for list Sign-ups, Social media posts and product/service campaigns.
What's a Landing Page and Why Do You Need Them?
A Landing Page is a single webpage created for one specific purpose as part of an online Marketing campaign. It's where users "land" after they click on a link in a Social media post, a Buy now button/link, a sign-up Email button/link, an Ad, etc, etc.
A Landing Page is only accessed through a direct link, is often temporary, and can be changed or updated frequently. A Landing Page has only one goal: to convert.
In online Marketing, a "conversion" is often a:
Donation to a nonprofit campaign

Sign-Up for your newsletter

Purchase of a Product

Service Scheduled

Registration for an Event

Trial Membership
Reasons to Create a Landing Page include:
Showcase a product or service

One-time-only offers (think of

BOGO ads on Facebook)

Sharing videos or infographics

Surveys

Saying thank you and/or supplying a coupon or coupon code

For a special sale (think holidays or clearance)

Downloadable materials
Key Elements of a Magic Landing Page
It's Relevant

It's Impactful

It's Concise

It FulFills a Promise
A Magic Landing Page has the potential to motivate 1000's of clicks and sales in one day, and must include:
All the Right Elements

Images that Resonate with Readers


One Call-to-Action (CTA)
How are Your Landing Pages Working Out for You?
Investing time and effort to create customized, perfect Landing Pages can bring in new customers and increase sales.
The best landing pages are a result of extreme attention to detail, a clear goal, a lot of thought, and constant testing.
If creating effective Landing Pages isn't your cup of tea, don't hesitate to ask your website specialist to create one or several for your next few campaigns.
Constant Contact, a leading automated Email Marketing platform includes easy to use, preformatted Landing Pages as part of their service packages. Take advantage of their 60 day free-trial (no credit card required) to see how many new sales you can make in the next sixty days. Learn more about the free-trial here. https://bit.ly/2qREFR1
More to Explore, courtesy of Constant Contact:
Ten Types of Successful Landing Pages
https://conta.cc/2L7iixS
How to Create a Landing Page with a Landing Page Builder
https://conta.cc/2rIjosK
   Return