How Chatbots Can Boost Your Marketing Reach

Jun

24

2019
Categories: Marketing
If you've ever shopped online, ordered food for delivery or used a customer support live service (those little icons that ask if you need assistance), then you've most likely had interaction with a "bot".
Some "bots" are bad, such as spam bots – but Chatbots are the good guys.
Chatbots are becoming more prolific in Social Media and on Websites because they've proven to be an effective tool for businesses to increase sales, save time and money, and build a stronger bond with their customers.
The word "Chatbot" is short for chat robot, which is basically a computer based program that mimics human chat, or conversation, and is able to communicate a prescribed set of actions on its own.
Chatbot Formal Definition:
A chatbot is an artificial intelligence (AI) program that simulates interactive human conversation by using key re-calculated user phrases and auditory or text-based signals.
Chatbots are frequently used for basic customer service and marketing systems that frequent social networking hubs and instant messaging (IM) clients. They are also often included in operating systems as intelligent virtual assistants. (techopedia.com)
Chatbot Channels May Include:

Facebook Messenger
Skype
Slack
SMS
Email
Web Chat
Chatbots Can:
Send Organic Traffic to Your Website.


Optimize Customer Experience.
Provide 24/7 Customer Support.
Offer Personalized Content Automation.
Manage Customer Questions and Give Answers.
Take Orders for Products, Services or Tickets.
Upsell Associated Services and Products.
Send Conversations to the Appropriate Personnel.
Increase Conversions and Sales.
Book Meetings and Make Reservations.
Gather and Analyze Incoming Conversation Data.
Give Directions for Business Location.
Display a Services or Restaurant Menu.
Benefits of Chatbots in Social Media and on a Website:
Personalize Conversations.
Extend Brand Reach with No Effort on Your Part.
Suggest Tips, Products and Services.
Point Viewers to Website Specific Pages.
Reply to Those Who Make a Post.
Sign Up New List Subscribers.
When Connected to Your Email Provider
will send a Discount to all those who interacted with the bot but didn't make a purchase.
Provide Quick Answers to Commonly Asked Questions.
You decide what you want your Chatbot to do, then configure it to meet your needs.
Example of a Chatbot on a Website
This site is using a ChatBot to greet people as they begin booking a service at SeattleBallooning.com: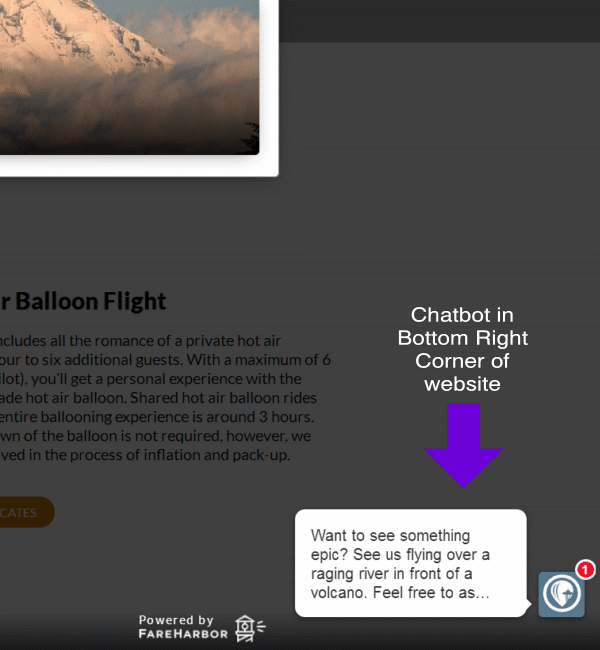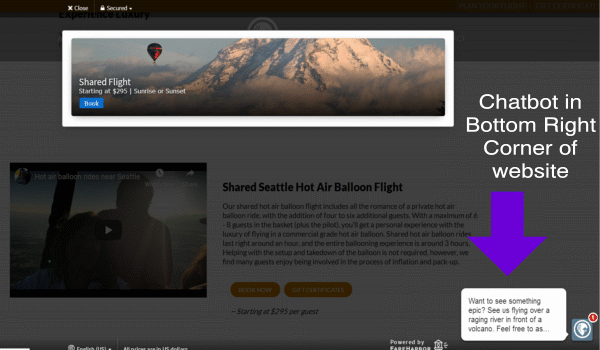 When the Chatbot is clicked, it begins a conversation based on the type of service selected: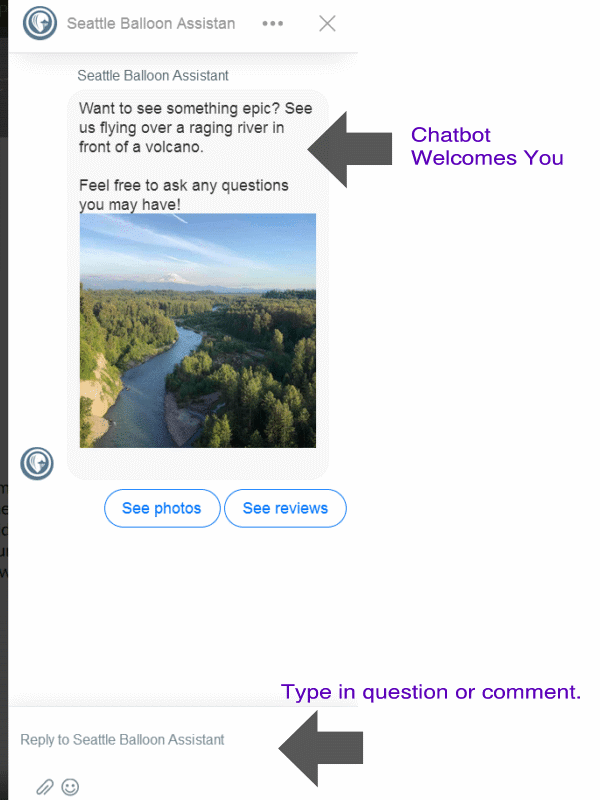 Use Chatbots in Facebook Messenger To:
Automate Conversations.

Create a Sales Funnel.

Send Downloads.

Deliver Message Sequences.


Create triggers and define actions.
Facebook also lets you upload Subscriber information from your Lists into custom Facebook groups, so you can send direct messages to segmented audiences.
How to Create a Chatbot for Facebook Messenger
Use an app such as:
Chatfuel, https://chatfuel.com/
Sequel, https://www.onsequel.com/
ManyChat, https://manychat.com/
MobileMonkey, https://mobilemonkey.com/
Engati, https://www.engati.com/
ItsAlive, https://itsalive.io/
Once registered, connect to an existing Facebook Business page or create a new business page where your Chatbot will reside.
Begin configuring your Chatbot. Start with questions that come in frequently from customers. You'll be able to draw from reports and add additional information once the Chatbot has been active for a while.
Once you've configured your Chatbot, view on Messenger.com (https://www.messenger.com/) to test.
Ask friends and family to test your Chatbot from a smartphone, desktop and tablet.
Change the Call-to-Action (CTA) button on your Facebook page to "Send Message" to move traffic to your Chatbot.
More to Explore:
Create a Chatbot for Websites:

Collect.chat,
https://collect.chat/
Instabot.io
https://www.instabot.io/
Landbot.io
https://landbot.io
Aivo.co
https://www.aivo.co/en/
Botsify
https://botsify.com/
Specialized Chatbots:
For Realtors
roof.ai, https://roof.ai/
For Marketing and Sales
GrowthBot, https://growthbot.org/
Analytics for Chatbots
https://www.dashbot.io/
Submit your Business Chatbot to Discovery on Facebook
https://developers.facebook.com/docs/messenger-platform/discovery/discover-tab/
Facebook Messenger, for Developers
https://developers.facebook.com/products/messenger
Slack
https://slack.com/apps/category/At0MQP5BEF-bots
Telegram
https://core.telegram.org/bots
Additional Reading:
Build a Chatbot in 10 Minutes Tutorial
https://www.clearvoice.com/blog/build-facebook-chatbot-10-minutes/
   Return