How Email Marketing Automation Helps Your Business

Sep

13

2021
Categories: Email Marketing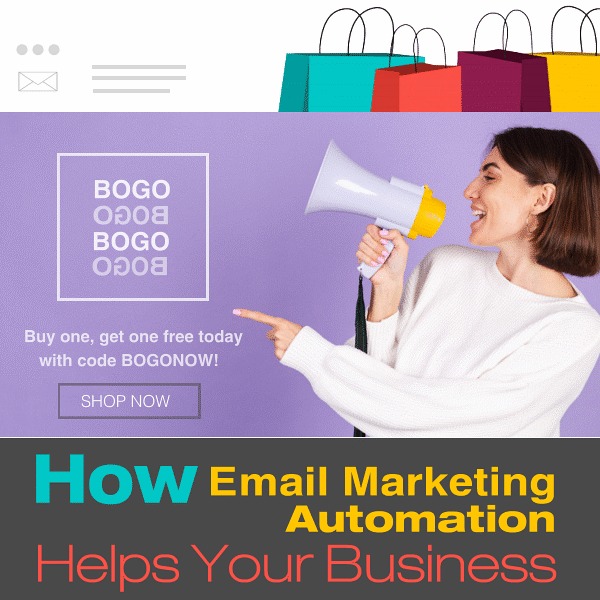 Would you like to drive sales and/or donations automatically?
You can!
Small businesses and non-profits are driving results in less time with easy-to-use tools.
You can too!
What is Automated Email Marketing?
Email marketing automation allows you to automatically generate more leads, increase revenue, and retain customers without manually managing your email marketing program. Automated email marketing can maximize ecommerce sales, and send personalized emails to every customer.
What's the Difference Between Marketing Automation and Email Marketing?
While regular email marketing allows you to manually reach your customers directly, email marketing automation takes it a step further by allowing you to send more relevant emails to specific customers based on their behavior. Automation requires less manual work from you, so even though your emails are more relevant, they require less effort to maintain.
How Email Marketing Automation Works For You
Increases engagement and improves results.
Automatically send a targeted welcome email when new leads are highly interested in your brand.
Automatically helps you nurture leads.
Create drip campaigns to target contacts based on how they interact with your emails.
Engages your audience.
Segment contacts. Send your message to the right people. Automatically resend to non-openers.
Expands your reach.
Find new customers with sign-up forms and list-building tools, like Facebook & Instagram Ads.
Email Automation Makes It Easy
Send Birthday and Anniversary emails.
Resend Emails to non-openers.
Turn online shoppers into repeat customers with A.I.-driven personalization.
Smart Segments
Target the right customers every time. Use standard segments (e.g. purchase activity, site visits), predicted segments (e.g. ready to buy) or build your own.
Ecommerce Marketing Playbooks
Take the guesswork out of setting up your campaigns with pre-configured playbooks to target customers automatically depending on where they are in their life cycle.
Intelligence & Reporting
Make informed decisions with ecommerce intelligence including top products and key trends ...plus predictive analytics like product recommendations and revenue activity.
SMS Marketing
Get new subscribers to text to join your list, keep them engaged with follow-up text messages, and sell more by sending texts around a specific event or promotion.
A.I. A/B Testing & Optimization
A.I. automatically A/B tests your emails and customizes everything from subject lines to email content to delivery time, frequency, and incentives.
Where's the Best Place to Start with Email Automation?
A good place to start is with an automated welcome email series. This will automatically trigger a series of emails for every new subscriber that introduces your business and gets them excited about what you offer. After your welcome series, you can start creating more automated email campaigns.
Watch this tutorial on how to create an automated email series to see how simple it can be.
Put Your Marketing on Autopilot
Automation Email Guide (pdf download)
Efficient. Effective. Email automation made easy.
Not sure if automated email marketing is right for you?
Learn more, then take advantage of the Constant Contact 60-day email marketing trial.
   Return