How Local Search Justifications are Your Friend

Sep

20

2021
Categories: Marketing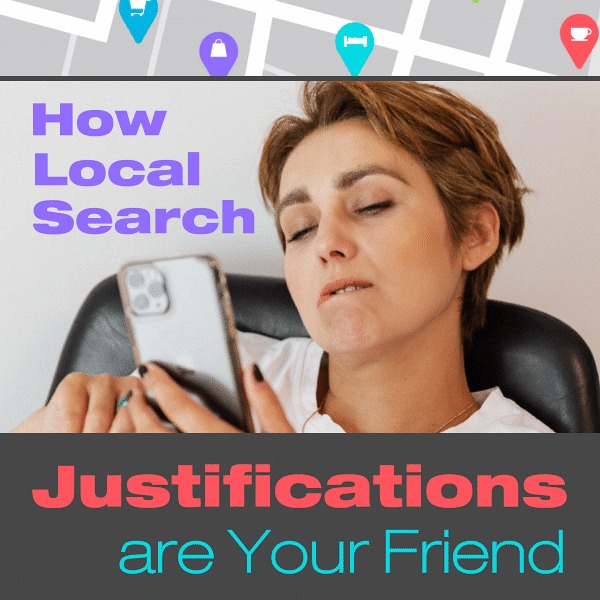 As a business owner, you're always looking for ways to get more information about your business to appear in search results.
For the most part, Local Justifications have been flying under the radar, and haven't received much attention. Google has been using local justifications to help serve up businesses so they stand out as places where people will find exactly what they are searching for, and need.
Let's take a look at current GMB (Google My Business) Justifications, and how they can be influenced.
What are Local Search Justifications?
In one sentence:
Local Justifications are lines of text that appear on local listings.
In more than one sentence:
A local Justification is an extra snippet of text Google displays on business listings in the local packs, local finders, and Google Maps.
Justifications are Google's way of validating the business.
Justifications signal to searchers that a feature of the business specifically matches their perceived intent.
There are a few different types of Justifications, and the type seen highlighted in local pack results will vary based on the search performed.
Justifications rely on how complete and accurate the business information is in your GMB (Google My Business) listing.
If you're marketing a local business, you'll want to optimize your GMB (Google My Business) listing to influence these Justification snippets as much as possible.
Justification Examples:
Review Justification
Review Justifications are sourced from your GMB (Google My Business) reviews.

In Stock Justification
In Stock Justification appearance is dependent upon the SWIS (See What's in Store) function being enabled.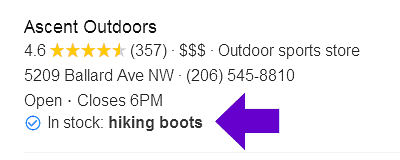 Google's SWIS feature lets searchers browse inventory and see what's in your store by integrating live product inventory into your GMB profile (Google My Business). Google makes the SWIS program available so local merchants can compete against Amazon. Currently, the product interface guides people to your website, rather than having transactions take place through Google for a fee.
Explore Google SWIS:
List local products for free on Google
Service Justifications
Google pulls Service Justifications from the 'Services' section of a GMB (Google My Business) listing.

Post Justifications
Post Justifications have a blue exclamation point icon next to them, and are pulled from Google posts that were created within the last 60 days.

Menu Justifications
Menu Justifications come in two versions. One is 'on the menu' and the other is 'menu highlight'.
Google pulls 'on the menu' items from the website menu associated with the business.

'Menu highlights' are dictated by Google users that upload photos to your GMB (Google My Business) profile. Menu highlights can be viewed on a smartphone by selecting the 'menu tab' (as shown in the image below) and scrolling through the menu highlights section.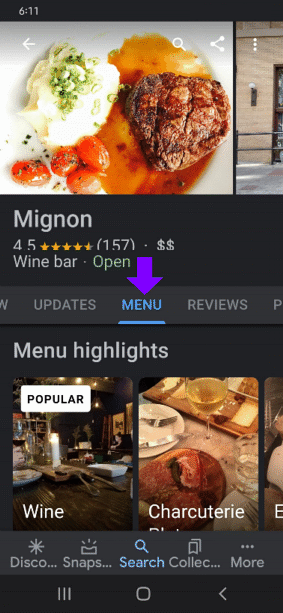 Website Justifications
Website Justifications are pulled from the website linked in your GMB listing. The linked URL doesn't have to be the page that mentions the topic featured in the justification. Optimize the GMB (Google My Business) landing page with terms you'd like to see show up as Justifications.

Sold Here Justifications
Sold Here Justifications can't be manipulated or influenced by a business owner. These justifications are drawn from Google users in response to the Google 'Know this Place?' question. Often times a GMB (Google My Business) page will show 'pending edits'. This is related to Google users that have answered questions about your business.

Good to Kno
Justifications don't cause rankings. Justifications appear because the business already ranked for that particular query. The only exception would be for Website justifications - as this Justification is an indication the site content is what's helping the business rank for that particular query.
Justifications affecting search results are updated in real-time.
Generic attributes you list within GMB (Google My Business) may block justifications from appearing. It's best to use text for specific services and products, rather than a broad description.
Justification appearance can vary depending on the viewing devise used (iphone, android, tablet, desktop, etc).
As a business owner, you want to do everything possible to get your website the most exposure possible in search results. Local Justifications help get more information about your business to surface in the search results.
Optimize your GMB (Google My Business) listing and website today!
Unsure how to optimize?

Check out our Google and SEO services.
   Return