How to Make Your Website Accessible: A Guide to ADA Compliance

Oct

2

2023
Categories: Design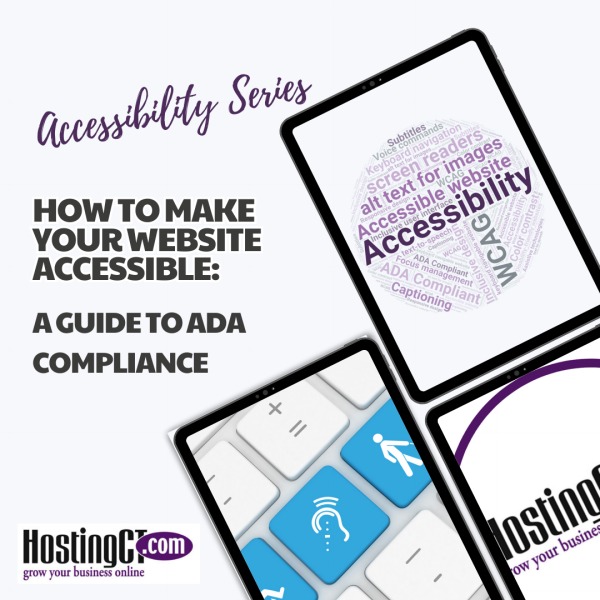 The Americans with Disabilities Act (ADA) requires businesses and organizations to provide equal access for individuals with disabilities. This includes making your website accessible. An accessible website allows people with disabilities like blindness, low vision, deafness, and limited mobility to access and use your site.
Making your site ADA compliant is not just the law, it's also good business. Accessible sites improve the overall user experience and help you reach a wider audience. Follow this guide to make your website accessible and avoid legal troubles down the road.
If you're short on time, skip to the good part!
Conduct an Accessibility Audit
The first step is to do an audit of your current website to uncover any accessibility issues. Look at:
Site structure - Logical heading structure, organized code.

Alt text - Text descriptions for images and graphics.

Contrast - Sufficient color contrast for text/background.

Navigation - Keyboard and screen reader friendly navigation.

Forms - Labels and instructions for forms.

Multimedia - Transcripts and captions for audio/video.
Use auditing tools like aXe, WAVE, or WebAIM's checklist to catch any errors. Fixing these problems now will save you headaches later.
>>> Request a free accessibility audit
Follow WCAG Standards
Web accessibility standards have been created to ensure equal access for all. Follow the Web Content Accessibility Guidelines (WCAG) 2.1 set by the W3C. Some key criteria include:
Level A - Site is fully operable by keyboard, elements are structured properly.

Level AA - Text can be resized, colors/contrast are compliant.

Level AAA - Media has audio descriptions and sign language options.
Review the full WCAG guidelines and aim to meet AA or AAA level compliance. This will cover many ADA website requirements.
Provide Text Alternatives
All non-text website elements need text alternatives. This includes:
Images/graphics - Provide descriptive alt text that conveys purpose and meaning.

Videos - Closed captioning and transcripts allow access without audio.

Audio - Transcripts should accompany audio clips and podcasts.

Icons - Decorative icons get blank alt text. Functional icons need descriptive text.
By providing text alternatives, people using screen readers can access the same content.
Design Easy Navigation
Your website navigation should be intuitive for everyone. Ensure users can:
Navigate by keyboard only.

Hear page options when using screen reader.

Skip repetitive elements with "Skip to Main Content" links.

Resize text without losing functionality.

Access site with no time limits or strobing designs that could trigger reactions.
With easy navigation, all users can effectively find information on your site.
Provide Form Field Labels
Web forms present special challenges for users with disabilities. Ensure forms are accessible with:
Descriptive text labels that associate with form fields.

"Submit" and "Reset" buttons labeled clearly.

Instructions presented in logical order.

Error messages if fields are filled out incorrectly.
This allows users to understand, interact with, and successfully fill out forms.
Follow Best Practices
Beyond specific guidelines, follow web accessibility best practices:
Use semantic HTML markup so screen readers can interpret page structure.

Offer color contrast options if color conveys meaning crucial for understanding content.

Provide large click areas for any interactive elements for limited mobility users.

Offer transcripts and captions for audio and video materials.

Allow users to pause or stop moving or flashing content.
Keeping these tips in mind will help cover any accessibility needs.
Test with Users
No guidelines or tool can catch every issue. Have people with different disabilities test your site for any accessibility barriers. Be open to feedback about their experience and make changes accordingly.
Stay Up to Date
Web standards evolve, so stay up to date on WCAG guidelines and ADA rules. Sign up for newsletters, audit site annually, and keep accessibility top of mind. Small tweaks can go a long way in ensuring your site serves all users.
Making your website accessible is an ongoing process. By eliminating barriers, promoting inclusive design, and keeping accessibility at the forefront, you can make sure your website serves all users and avoids legal troubles under the ADA.
The Good Part: An Easier Solution
There is an easier solution than reprogramming your entire website.
With our easy to use plugin, your website can be compliant with ADA standards and be accessible by people with a wide variety of disabilities from blindness to epilepsy.
HostingCT offers a unique solution that automatically opens an ADA control panel that users with disabilities have access to on loading your website. With this tool available to them, they can choose the alterations necessary to fully utilize your website.
This add-on solution is an easy add-on that we can add to your code and have your ADA compliant features up and running - the same day!
The cost of this efficient solution is only $490 per year. Less if you take advantage of the tax breaks..
What will you get with our accessibility solution:
Accessibility by the 20% of Americans living with a disability

Visible accessibility statement on site

24-hour automated ongoing compliance scans

Monthly compliance audit sent to the inbox

Extension of market reach

Enhancement of brand reputation
Webinar: "5 Positive Effects of Having an ADA Compliant Website - Register Today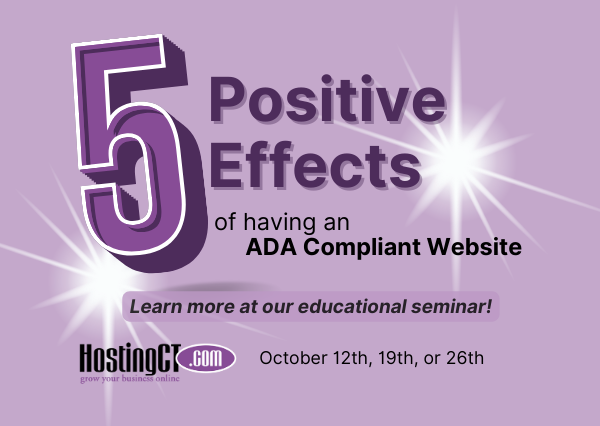 Digital accessibility and ADA compliance are critical for any business with an online presence. There are many benefits to having an accessible website beyond simply meeting legal requirements. Join HostingCT for our upcoming webinar "5 Positive Effects of Having an ADA Compliant Website" October 12th, 19th, or 26th to explore the five key ways an accessible website can improve your business. We'll discuss how an ADA compliant website opens you up to new markets, builds customer trust and loyalty, enhances SEO and conversions, futureproofs your online presence, and protects you legally. Whether you're just starting your website or looking to improve accessibility, you'll gain valuable insights. Reserve your spot today to ensure your business fully capitalizes on the advantages of digital accessibility. Let's work together to create a web that works for everyone! Register today!
   Return