How to Optimize Landing Pages that Increase Conversion Rates

Apr

11

2022
Categories: Marketing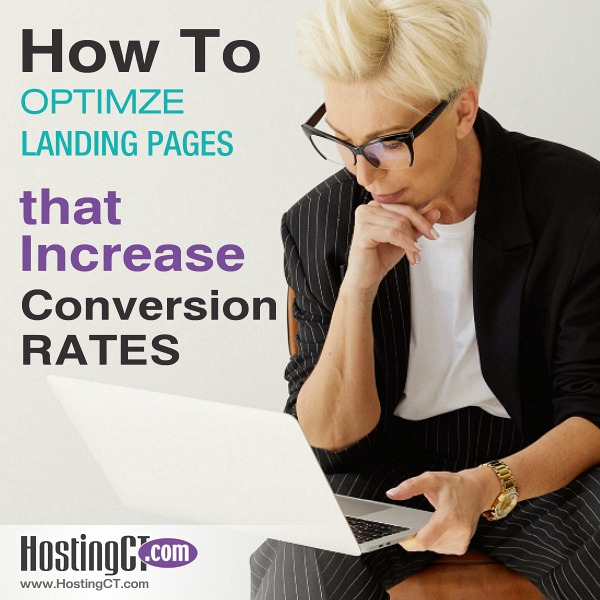 Online marketing takes many forms – and Landing pages are one element businesses need to get right.
Do you have your Landing page formula perfected?
Do you sit and think for hours how best to layout Landing pages?
Do you know what the purpose and goal of a Landing page is?
What is a Landing Page?
In online marketing, a Landing page is:
Known as a lead capture, single property, static, or squeeze page.
A single web page that appears in response to clicking on a search engine optimized search result, marketing promotion, marketing email, or an online ad.
Used for lead generation. The action a visitor takes on a Landing page is what determines an advertiser's conversion rate.
Usually a single page within a business or organization's main website.
Often linked to a dedicated webpage, email campaigns, social media, search engine marketing campaigns, or high quality articles in order to enhance the effectiveness of the advertisements.
The general goal of a landing page is to convert site visitors into sales or leads. By analyzing activity generated by the linked URL, marketers can use click-through ratios and conversion rates to determine the success of an advertisement.
reference: wikipedia
Landing Page Creation Tips
Keep the overall design simple.
Craft an irresistible headline.
Use contrasting colors that stand out, and impactful images/photos.
Make the offer crystal clear. Get to the point, less is more.
Position important information above the fold.
Make your offer limited, include an end-date.
CTA (call-to-action) button should be obvious.
Show off your credibility. Include an industry badge, testimonial, or review.
Display your contact information.
Experiment with tweaking headlines and body text to see which copy segmented subscriber groups respond to best.
Types of Landing Pages
Your business wants people to learn from, buy from, and interact with your Brand.
Here are a few type of Landing pages you can start working on:
Promote a single product or service.
Trials or Email list membership.
Problem solutions, seasonal solutions.
New product/service launch.
Donations and contributions.
Event registrations.
Downloadable materials.
Infographics and videos.
Business Landing Page Goals

Making use of optimized Landing pages is now the norm for businesses.
Your goal is to:
Turn visitors into customers with targeted, and actionable Landing pages.
Capture new leads and drive online sales all in one place.
Turn visitors into subscribers and customers.
Make sure your Landing pages are optimized for conversions.
Depending on which automated Email provider your company utilizes, you should be able to create optimized Landing pages that turn visitors into subscribers and customers with lead generation and shoppable Landing pages.
However, most business owners don't have the skill level to optimize a Landing page for high conversions, or code the design from scratch.
This is where Constant Contact helps you out. Within their sophisticated interface you can:
Create a landing page in just minutes with their intuitive page editor.
Drive traffic to a Landing page that improves results for your marketing campaigns.
See how your Landing page is performing with detailed insights and analytics.
Connect with leads as soon as they sign up with an automated email series.
If your Email provider doesn't supply this feature, Constant Contact does. Try out their free trial for 60 days to see how much your business can accomplish in one place, under one umbrella.
Read more about Landing pages at Constant Contact.
Did You Know?
We can assist you with any Landing page questions you may have.
HostingCT.com is Constant Contact certified – contact us.
More to Explore:
Small Business Marketing Trends
Ecommerce Sales are Booming – Is Yours?
Why and How Businesses Add Coupons Into Email
   Return