Ecommerce Sales are Booming – Is Yours?

Apr

26

2021
Categories: Design,Marketing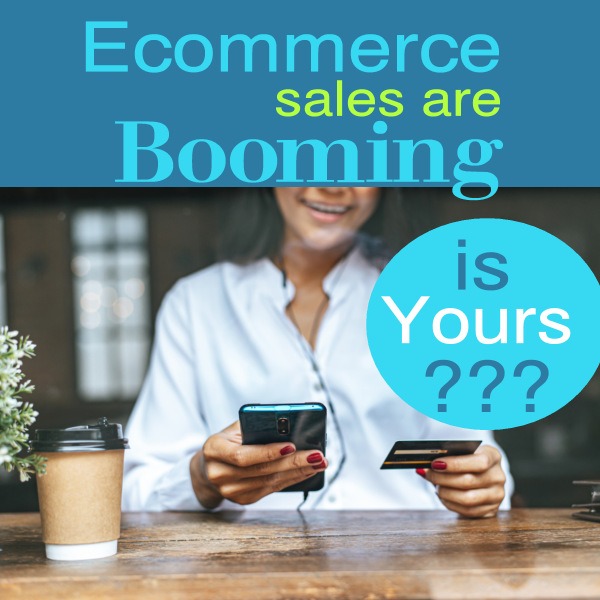 Customers are clearly utilizing online shopping more than ever before.
Digital transactions are the new normal.
Those businesses who escalated their efforts a year ago with customer-friendly digital purchases have managed to increase sales into 2021.
Statistical data shows:
New growth:
25% of US consumers now prefer to begin their shopping trips online.
New consumers:
17% increase in online-native shoppers since March 2020.
New opportunities:
As customer expectations change, businesses that pay attention to what their customers want increase loyalty and retention.
The recent growth in digital commerce is a signal that businesses and retailers should continue to scale their investment efforts into digital purchasing, while refocusing and enhancing the consumer in-store experience.
What Does This Mean for Your Business?
If your sales are steady - have you been wondering how you can keep up with the changing environment, while continuing to turn a profit?
If your sales are lagging – are you at a loss of how to turn sales around and actually make a profit?
Let's Explore:
Shoppers Want Convenience and Security

Buyers want to browse, click and buy. Customers want they want, when they want it – without a complicated buying process.
If your ecommerce buying experience is cumbersome, it should be tightened up so sales can start ringing up.
Many businesses need to make changes to accommodate new buying trends, expand buying channels, and make available all payment options.
Tips for Getting Back on the Ecommerce Money Train
Privacy and Security:
Have a professional audit of your ecommerce website, and address any privacy or security concerns that arise.
Prioritize Customer Support:
Chat apps and Chat bots provide a level of customer support that can handle the majority of consumer inquiries – and they're here to stay. If not installed on your site, consider doing this within the next month.
Up Your Social Media Activity:
Social media shopping has gained momentum as people have made the transition from browsing to buying. More buying channels equals more sales.
Audit Your Competitors:
Review direct local competitors, and include global competitors if applicable. Make your offers better than theirs. This can include convenience or monetary based.
Create a Memorable Customer Experience:
Think about what keeps you loyal to your favorite Brands, then incorporate into your own business.
Consider Upgrading Your Ecommerce:
Businesses benefit from a secure ecommerce platform as it allows your business to easily accept a variety of payment methods so you never miss a sale.
One dominant leader in online payment processing is Authorize.net, a payment solution gateway with a long history of supporting small business and big business alike.
Core benefits include:
Payment Acceptance:
Mobile.
Web.
In-App.
POS/mPOS.
Payment Services:
Digital payments.
Credit Card processing.
Alternative payments.
eCheck processing.
Mobile/Virtual Point of Sale.
Commerce Services:
Recurring Billing.
Invoicing.
Account Updater.
Plus:
Fraud and Security protection that include secure data storage, fraud management and PCI compliance.
Business Management to include account and user management, reporting and account sync.
24/7 Merchant Support and resources.
Learn more to see if Authorize.net is a good fit for your business.
More to Explore:
Get business help with Social Media Marketing, Email Marketing and SEO (Search Engine Optimization).
   Return